NHL Rumors: Shane Doan continues to look around as Coyotes remain quiet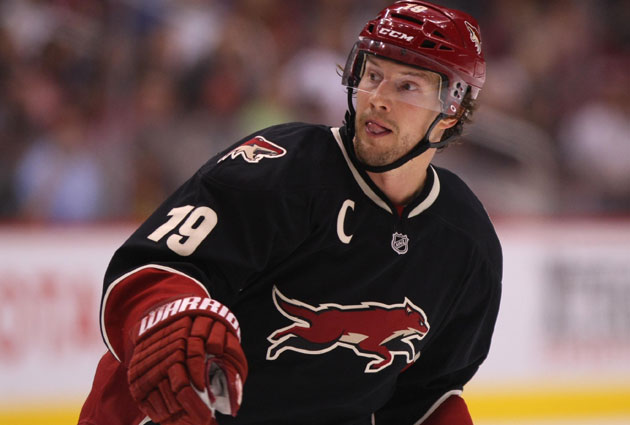 Shane Doan has 22 goals, 28 assists last season for Phoenix. (US Presswire)
Shane Doan is waiting to hear more from prospective Phoenix Coyotes owner before making a decision on where he will play next season. The only problem? He's not hearing anything from Greg Jamison at the moment.
As you might guess, that's a pretty big problem.
Sarah McLellan of the Arizona Republic spoke with Doan's agent Terry Bross.
Doan's camp hoped to hear from prospective Coyotes buyer Greg Jamison by the end of the week to gain reassurance that his bid to purchase the team was still progressing.

Without that insight, Doan was expected to examine the 16 teams that have expressed interest in him and study the six offers already extended to determine where he could envision himself next season if he wasn't with the Coyotes.

That communication from the Jamison group never came, and the business meeting in New York evolved into a visit with the Rangers and then the Philadelphia Flyers. By Monday, Doan's agent, Terry Bross, was waiting for Doan's list of teams he would consider joining.
So in the meantime the flirtation with other clubs goes on. As McLellan notes you can count the Flyers and Rangers in on Doan. Yes, the Rangers are still very much in the picture. They might have just acquired the highly paid Rick Nash on Monday but they actually shed money in the trade, believe it or not. The Rangers have a ton of money under the cap at this point so by no means are they ruled out. In fact, getting Nash probably only made them a stronger suitor.
In total there have been 16 teams with reported interest in Nash. The Pittsburgh Penguins figure to be one as well as the Kings, Sharks and Canucks among others. Still, though, the preference is to stay in Phoenix.
For Phoenix, at least from an on-ice standpoint, the priority has to be to re-sign Doan, too. They already lost Ray Whitney this summer, they can't really afford for Doan to leave the desert too. So if I'm GM Don Maloney I'm giving Jamison a call to ask him to spend five minutes and give Doan a buzz to give him an update, hopefully positive.
Then again the pessismist in me could say the simple reason why Jamison hasn't been in touch with Doan and his agent is because he has nothing good to report. If the hope is to keep Doan in the desert than Jamison isn't going to call and say things aren't progressing as he hoped.
Doan isn't going to wait forever so the longer this delays the more likely we are to see Doan going somewhere else.
In fact, according to the Phoenix Business Journal, he isn't even going to wait another week. Doan has reportedly given Jamison and Co. a deadline of Friday to show him there is progress being made toward a sale. If the answer is no then he will cut bait.
At least by getting the visits to teams out of the way now it will expedite the process later if/when he decides Phoenix isn't in the cards.
For more hockey news, rumors and analysis, follow @EyeOnHockey and @StubitsCBS on Twitter and like us on Facebook.