Some reasons why the Shea Weber offer sheet is good for hockey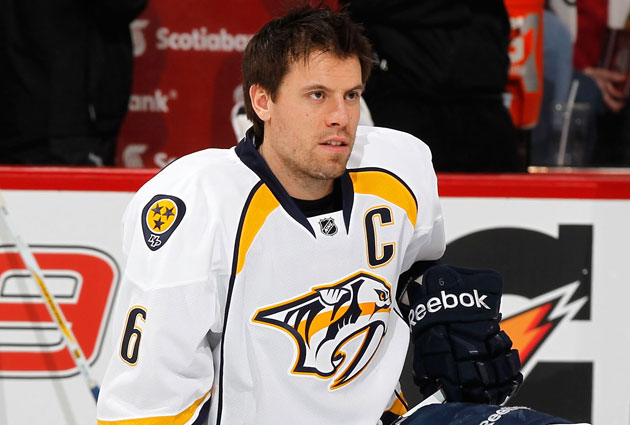 The decision on Shea Weber will be huge for hockey, whichever way it goes. (Getty Images)
Six days ago the Philadelphia Flyers made arguably the biggest move of the offseason by signing Nashville Predators star defenseman Shea Weber to an offer sheet for 14 years and a heavily front-loaded deal worth $110 million.
By now you're surely heard or read the reasons why the deal is not good news for hockey. There seems to be no shortage of those ranging from a smaller-market team losing the best player on the team and face of the franchise to a traditional power bullying and buying.
But what about the reasons why it's good for hockey? Well they're there; you just have to look a little harder.
As mentioned, this was a big deal, for my money the biggest of the summer, no matter which way it turns out. The principal reason for that is the pure fact that we had an NHL GM use an offer sheet for the first time in what feels like a trip around the galaxy for Halley's Comet. Offer sheets are there at every GM's disposal and are there for a reason yet nobody ever uses them and I can never understand why. Citing the "unwritten rules" is just not a good enough reason to pass on making such a big move like the Flyers have just tried.
Owners and GMs don't like offer sheets because they see what they could lose, not what they stand to gain. Nobody wants to stomach the thought of seeing a young star walk away before they turn 27 years old. That's why the first reported proposal from the NHL in the current Collective Bargaining Agreement meetings had a few stipulations in there like extending restricted free agency to 10 years -- 10 years !! -- of service before going unrestricted and entry-level deals being five years instead of three.
Shea Weber offer sheet
More NHL coverage
If the Predators don't match this offer sheet and Weber goes to the Flyers it will show to GMs out there that offer sheets can work. They can start to see the positives instead of the negatives. Mind you, they won't always work but it could open other GMs eyes that they can succeed ... and that might open up the floodgates. Sure, it might have the feel of wiping out the parity that the NHL has worked hard to achieve if all of the old powers were to go Yankees/Red Sox on everybody and consolidate the talent among a handful of teams. In my eyes that is a potential downside but it's one I'll live with if it leads to the opening up to offer sheets.
Despite the compensatory picks that go back in return for signing restricted free agents, I think the offer sheets are still a great way to go. What GM wouldn't want the sure thing in a young NHL player who has already proven what he can do at the highest level than the uncertainty of draft picks? Unless you think your team will be in line for some top-five picks in the next few seasons, I say take the player all day long if you can. If nothing else, you hurt a fellow competitor through completely fair and legal methods by stretching their wallet.
Getting back to that first proposal by the owners, let's just pretend those terms were accepted and players would have to spend 10 years in the NHL before being eligible for unrestricted free agency. In some cases players wouldn't be available to be signed UFA until they were in their 30s. The earliest a player could go UFA is 28. In that world, offer sheets would have to become a greater reality. The free-agent market would be even barer every summer than it already is and the sheet would be the only way to go for any true value. To pay the kinds of salaries we see in free agency for players are routinely past their primes? No thank you.
Point is, it's a tool that GMs should use but don't and the sooner they start, probably the better. This Weber sheet could be the beginning of an offer paradise. ... or maybe as likely an outlier. Still, a guy can hope.
But let's flip this on its axis a little bit and go to another reason why this is actually great for hockey. If you are on the side that says this points to the large disparity between the big-market and small-market clubs then you should root for the Flyers to get Weber. Why? Glad you asked.
I won't disagree with anybody who, if the Predators don't match the offer sheet, says this is why the league needs better revenue sharing or luxury tax. If you are of that frame of mind then what better time for it to happen than now? If a disparity is highlighted that brightly while the NHL and NHLPA are at the negotiating table this summer then maybe some meaningful changes can be made.
Frankly, the NHL needs a new system to benefit the poor. We all know pretty well by now that communism doesn't really work in practice, right? Of course not, that's rhetorical. But in sports? The sharing concepts that we see in communism have worked pretty well. If you don't believe me just look at the NFL and their sharing ways. Seems to be doing fine to me.
James Mirtle of the Globe and Mail had an excellent piece breaking down the need for greater revenue sharing and how that is the answer to curing the NHL's ill, not owners getting a larger piece of the revenue pie from players. The Predators' potential pain could be the rest of the less-fortunate teams' gain (and in an ironic twist, the Predators' too). This could be the illustration that owners need to get serious about spreading the wealth.
Want one more reason why this offer sheet is good for the sport? OK, this one is simple. Offer sheets are exciting.
Think about it ... here we are in the dead of summer now and there will be tremendous interest in hockey at close to midnight on a late July Wednesday. That's when the deadline comes for the Predators to make a decision. There will be as much or more interest at the moment than there was at any point during the season. Offer sheets can produce that kind of drama, debate and excitement. And really, who doesn't want to be excited?
Are there negatives to the offer sheet handed out to Weber by the Flyers? Absolutely, especially if you are David Poile, GM in Nashville. But it isn't all bad. To quote the great Young MC: Through every dark tunnel there's a light of hope.
For more hockey news, rumors and analysis, follow @EyeOnHockey and @StubitsCBS on Twitter and like us on Facebook.