Glendale gives 31-day extension for lease agreement in Coyotes sale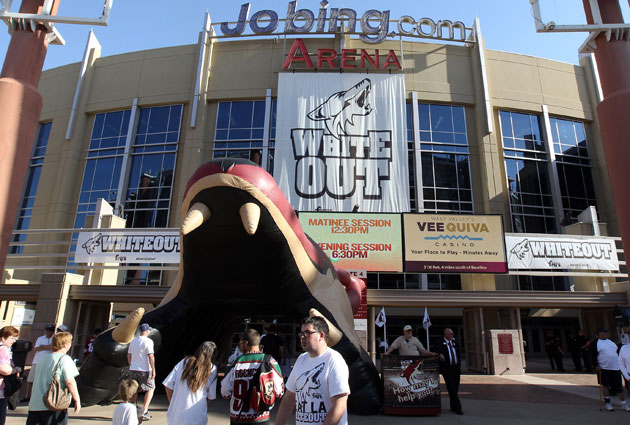 The lease agreement was extended to try and keep Jobing.com Arena with a tenant. (Getty Images)
When the city of Glendale approved the lease agreement at Jobing.com Arena to help facilitate the sale of the Phoenix Coyotes to Greg Jamison, it was given an expiration date of July 31 to consummate the deal. That wasn't long enough.
Considering Tuesday is the deadline and there are reports that Jamison is well short of meeting the NHL's asking price for the franchise, obviously no deal has been done. So, as reported by John Shannon of Sportsnet, Glendale is going to give Jamison and the NHL more time to finally end this saga.
The arena agreement with the City of Glendale and the NHL which expires on July 31, will be extended for another 31 days.

— John Shannon (@JSportsnet) July 31, 2012
While Jamison and the NHL have remained very quiet about the proceedings of their negotiations, neither confirming nor denying any issues with money or trying to reach a deal, this is obviously a sign things still aren't going too well. By now Glendale obviously thought a sale would have been made.
This also can't be a good sign for Shane Doan and those hoping he stays in Phoenix. He has already expressed his growing wearisome from waiting for some kind of resolution in Phoenix, I highly doubt he'll be interested in waiting a few more weeks to find something out.
But everybody involved is hellbent on getting this deal done. Glendale would love to finally be off the hook for the $25 million promised to the NHL each season to offset losses, the NHL would love to rid itself of ownership of the team and to finally secure the franchise where it so clearly wants it to be. And Jamison? Well I think it's a safe presumption to say he wants to own the team.
So really they had little choice but to extend the lease agreement deadline. It at least shows that everybody remains somewhat confident that a deal can and will be reached. If the deadline had not been extended then it would have pretty much meant the end of the franchise in Arizona. At least there's that, Coyotes fans.
For more hockey news, rumors and analysis, follow @EyeOnHockey and @StubitsCBS on Twitter and like us on Facebook.