Flyers re-sign coach Peter Laviolette to multi-year extension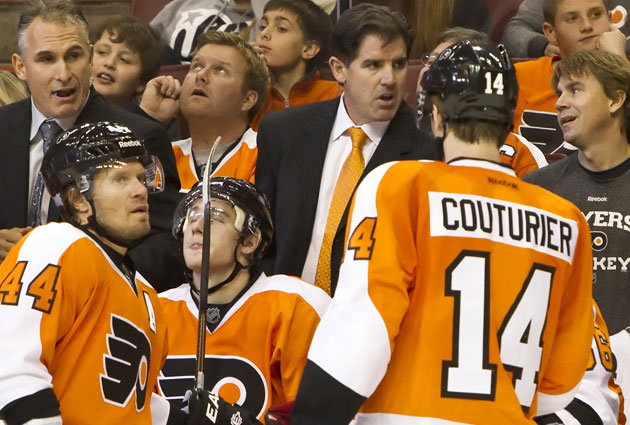 Peter Laviolette is going to continue to give orders from the Philadelphia bench. (US Presswire)
The Philadelphia Flyers announced on Wednesday what has been expected for a few weeks now, that coach Peter Laviolette is going to remain the Flyers bench for years to come.
Details of the contract were of course not released other than the Flyers calling the deal a "multi-year extension." But Tim Panaccio of CSN Philadelphia reports it's a two-year extension that will take effect after the final year of his current contract. Thus, Laviolette is signed for the next three seasons.
"We are thrilled to have Peter continue his work with our group as we push to compete for the Stanley Cup," GM Paul Holmgren said. "Peter has done a terrific job for us and is very deserving of this extension."
That's not just your standard press release lip service iether from Holmgren. It's hard to say that Laviolette hasn't earned this extension. Since he took over midseason in 2009 he has led the Flyers to a 122-73-26 mark including the run to the Stanley Cup Final in his first half-season in Philly.
Before coming to Philly Laviolette also had plenty of success in Carolina as the bench boss there. He led the Hurricanes to the franchise's only Stanley Cup championship.
Lavvy already has a reputation for being one of the smartest coaches in the league but we also saw a few different sides to Laviolette this past season for the Flyers. He showed plenty of fire in a game against the Penguins and a lot more cynicism about officiating in Quebec.
For more hockey news, rumors and analysis, follow @EyeOnHockey and @StubitsCBS on Twitter and like us on Facebook.