Barclays Center CEO 'trying like hell' to get Islanders to move to Brooklyn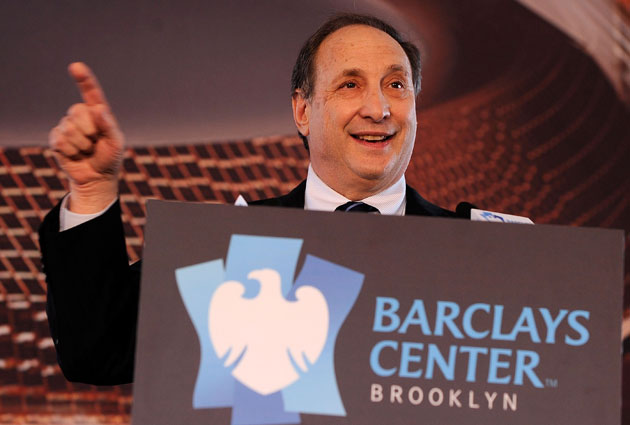 Bruce Ratner wants to add a second tenant to his new arena. (Getty Images)
Here's good news for Islanders fans hoping the team will stick around in New York after 2015: Brooklyn Nets minority owner and Barclays Center CEO Bruce Ratner really wants the team to move to Brooklyn. He told the New York Daily News he's doing all he can.
"And I am trying like hell to get the Islanders to make Barclays Center their new hockey home," he said. "They will play a pre-season game here against the Devils."
When trying to find a way to keep the Islanders in New York beyond 2015, all signs end up pointing back to Brooklyn. Because the new Barclays Center isn't perfectly suited for hockey and would have the league's smallest seating capacity, many haven't seen it as a viable option. The layout for hockey would be unique as one endzone would be empty for hockey.
As Ratner points out, there will be an exhibition game there, so we'll have an audition for the arena this Fall -- assuming they play preseason games, that is. That game should provide a pretty good idea on how well -- or poorly -- hockey would work in Brooklyn.
From an economical standpoint, the low seating capacity shouldn't be much of a problem. By moving the team closer to the city and in a brand new arena, it's a safe presumption to make that the tickets would be in more demand. If that's indeed the case then the tickets become more valuable and the money you lose from fewer tickets to sell is regained by being able to charge more for each seat.
Not to mention that in recent seasons the Islanders have been averaging fewer fans pre game than the Barclays can hold for hockey, so it's a bit of a moot point. The important part should be keeping the Islanders at home on Long Island.
There has been some smoke that an Islanders-to-Brooklyn move was in the works, at least in the talking stage. Meetings have been held in New York with the Islanders brass, Nets brass and the NHL, at this point obviously nothing more than exploratory.
It's tough to imagine the NHL would be OK with the Islanders leaving the New York market even if there are still two teams in the area. Brooklyn provides probably the only legit option to make that happen so it's great that Ratner is interested in making it happen.
For more hockey news, rumors and analysis, follow @EyeOnHockey and @StubitsCBS on Twitter and like us on Facebook.