Video: EA Sports' NHL 13 overhauls graphics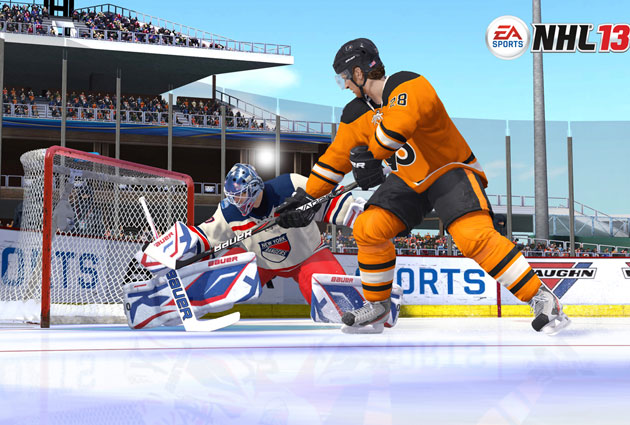 A scene from the Winter Classic in Philly. (EA Sports)
Remember the old EA Sports slogan of "If it's in the game, it's in the game?" Well in this year's version of their NHL video game series, they really are going deeper into the details.
EA Sports continues to reveal different clips to tease the game and show off the new features. It began with the first look at the game just to whet the appetite. Now they are making fans of the series salivate.
One of the goals of this year's overhaul was to make the game look even more realistic for those playing. Well, just have a look for yourself and see what you think.
Whoa. That looks pretty sweet especially the Winter Classic scenes. The last version did a pretty awesome job with the Winter Classic night game in Pittsburgh but this one looks amazingly crisp. This go-round both versions of the Winter Classic will be there.
But that's not the real highlight here. No, it's the additional changes in real-life graphics. The shadowing has been perfected, ice spray has been refined and things in the crowd from the fans to the video boards have been changed to reflect more what's going on in the game.
Even more noticable is the shift to make the game really appear like you're watching it on TV. From the EA Sports blog on the presentation overhaul:
One thing we've learned over the years is that while making a game that feels like hockey to those people who play it is important, more people experience the game by watching their favorite team on television than actually lace up skates on a regular basis.

With that in mind, we wanted to make the game feel much more like you were experiencing it as a television broadcast which is why we worked on a New Broadcast Presentation.

This year we are moving away from using traditional canned cut scenes and we ensured that between plays we were to cutting in on the real time action.
Further, the commentary will speak specifically to the action in the highlight and you'll be able to see replays from the traditional broadcast camera position at center ice. Also, the menu page will be designed to make it look like a television set.
All in all, EA has put a lot of effort this year into improving further the look and feel of an actual game/broadcast. From what I can tell so far, it's looking good.
For more hockey news, rumors and analysis, follow @EyeOnHockey and @StubitsCBS on Twitter and like us on Facebook.