Report: NHL commissioner Gary Bettman made nearly $8 million in 2011-12 season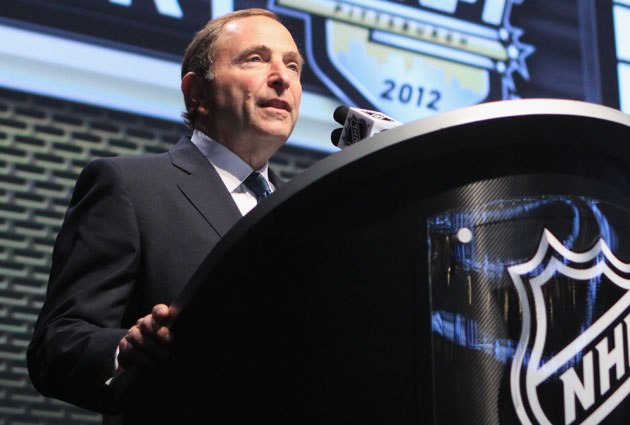 Gary Bettman had eight million reasons to ignore the boos last year. (Getty Images)
Gary Bettman is on the verge of seeing the third labor stoppage of his career as commissioner of the NHL. That doesn't mean his salary is hurting.
The Sports Business Journal's Chris Botta dug up the NHL's tax filing this year in which Bettman's salary information is included. So what did the commish make last season while the NHL was enjoying record levels of revenue and ratings? Try just shy of $8 million.
At more than $7.98 million, Bettman's salary has more than doubled since the lockout that canceled the NHL's 2004-05 season. In that year, he made $3.7 million. The league's total annual revenue, including its 30 member clubs and other business operations, has increased in that same time from $2.1 billion to $2.9 billion for the 2010-11 season, up 38 percent. The total grew further in the 2011-12 season, to $3.2 billion.

The tax filing does not include the revenue and expenses of NHL Enterprises and the NHL Network, which are not tax-exempt.
Compared to the 2010-11 season, Bettman saw an increase of nearly $500,000.
This is surely going to rub a lot of people the wrong way. In case you haven't noticed at the drafts or have tuned out before Bettman has handed the Stanley Cup to the winning captain in recent years, Bettman isn't the most popular guy in the game of hockey among the fans.
Still, Bettman's compensation pales in comparison to his counterparts in the NFL and MLB. Roger Goodell makes around $20 million annually, as does Bud Selig. David Stern's numbers from the NBA aren't known but they are probably much closer to Selig and Goodell than Bettman. There's some solace in that at least, right?
It's hard to argue against the growth of Bettman's salary over the years, though. The NHL has seen a massive increase in revenue so naturally the head honcho should see a similar increase. That much seems fair.
But man, imagine if you're representing the NHLPA in CBA negotiations this summer and Gary Bettman starts talking about the owners needing more money from you. The first proposal from the league was the equivalent of a 24 percent rollback. I wonder how Bettman would feel if the players requested his salary for next season drop to $6 million.
Bill Daly, Bettman's second-hand man as NHL deputy commissioner, came in at second on the salary list. In 2011-12, Daly raked in $2.856 million.
My favorite part of the entire report from the SBJ? The revelation that the NHL spent more than $6 million in the past year on legal representation in the Coyotes saga. The money pit that has been Phoenix the past few seasons never ceases to amaze.
For more hockey news, rumors and analysis, follow @EyeOnHockey and @StubitsCBS on Twitter and like us on Facebook.