Avalanche extend Jean-Sebastien Giguere through 2013-14 season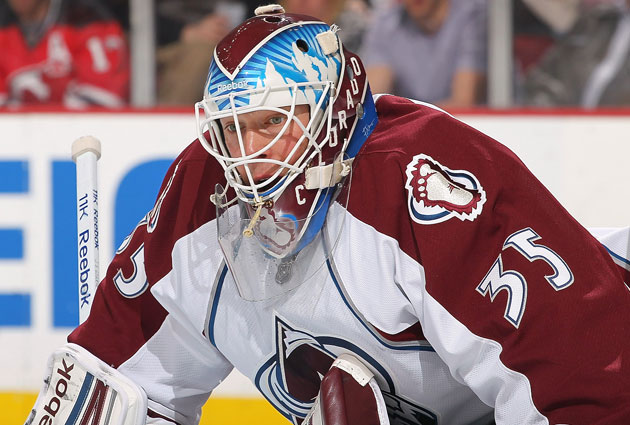 Jean-Sebastien Giguere had his best save percentage in five seasons last seaosn. (Getty Images)
The Colorado Avalanche decided that the first year of Jean-Sebastien Giguere's career as a member of the Avs was good enough that he already deserves a contract extension.
With one year remaining on the two-year contract Giguere signed last summer, the Avs and Giguere reached an extension for an additional season that will keep him in Colorado through the 2013-14 season.
Mike Chambers of the Denver Post reports the extension is for $1.5 million in the one season, representing an increase from the $1.25 million annually Giguere is earning on the original two-year contract.
"J.S. provided leadership, stability and a veteran presence to our team last season," Avalanche General Manager/Executive Vice President Greg Sherman said in the team's release. "He helped solidify our goaltending position and we are pleased to have J.S. under contract for the next two seasons."
It sure seems like a just reward for Giguere, who refound his game when moving to Colorado. Serving as the backup to Semyon Varlamov, Giguere enjoyed the best season he started for the Ducks in 2007-08. His career then turned sour for the remainder of his time in Anaheim and stayed the same in Toronto. It had some thinking Giguere's days were done as a serviceable NHL goalie.
Then Giguere turned in the season he just had behind Varlamov, settling in well to the backup spot in Colorado. In 32 appearances Giguere had a 15-11-1 record with a 2.27 goals against average and .919 save percentage, more than solid for a No. 2.
By locking Giguere in for another two years it means the Avs don't have to worry about their goaltending situation for another couple of summers. Varlamov is inked for the same amount of time, the next two seasons.
The only bad news? It means at least two more years worth of "Gettin' Giggy With It" references that should have been extinct a decade ago.
For more hockey news, rumors and analysis, follow @EyeOnHockey and @StubitsCBS on Twitter and like us on Facebook.