Canadiens sign Max Pacioretty to six-year extension worth reported $27 million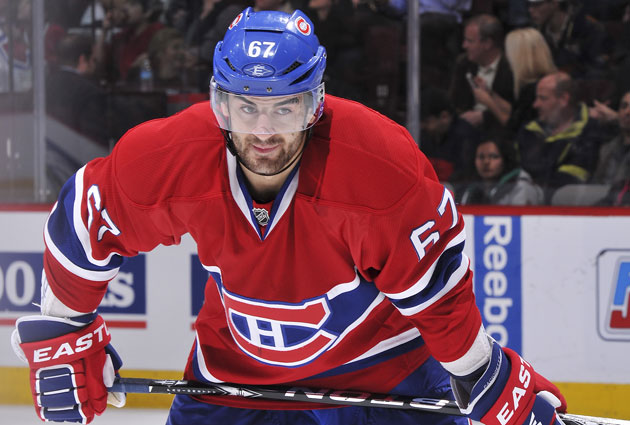 Max Pacioretty led the Habs with 65 points last season. (Getty Images)
Max Pacioretty still has another year left on his current contract with the Montreal Canadiens. That didn't stop the Habs from inking the up-and-comer to a new six-year extension on Monday.
Like most teams, the Canadiens didn't release the financial information on the new contract but TSN's Bob McKenzie did. Starting in 2013-14 Pacioretty will be making $4.5 million on average -- $27 million over the length of the contract. It will keep Pacioretty in Montreal through 2018-19.
Initial impressions of the deal? It's a great one for Montreal. The new contract will take Pacioretty through the prime years of his career until he's 30 and in comparison to some of the other prices we've seen across the NHL, it's a relative bargain, too. There is no doubt that Pacioretty is a first-line talent at just 23 years old.
Pacioretty is coming off a career season, history-making in fact. He became the first American in Canadiens history to score 30 goals in one season, barely beating his teammate Erik Cole to that mark this past season. In total he finished with 33 goals to go with 32 assists for a team-high 65 points.
The best part for the Canadiens is that they are signing a guy whose future seems incredibly bright. It was his fourth season overall in the NHL but first of more than 52 games and he absolutely broke out with those 33 goals. Before last season his career high had been 14 goals -- but in just 37 games -- in 2010-11.
The really impressive part about it? Only four of those were scored on the man advantage. It's always a good harbinger when a player is doing that kind of damage at even strength. Naturally the power-play numbers should be coming too.
If the former first-round pick continues to improve this is going to look like a bargain for the Canadiens no matter what the future holds in terms of CBA negotiations.
This new deal also represents a remarkable turnaround after the season-ending injury that Pacioretty sustained at the hands of a Zdeno Chara check into a stanchion at the end of the 2010-11 season, resulting in a fractured neck. Because of the strong rebound from the horrific injury Pacioretty took home the Masterton Trophy, the NHL's equivalent to comeback player of the year.
Hopefully this contract will mean Pacioretty is known more around the league for being a solid young forward that the gruesome scene last year.
For more hockey news, rumors and analysis, follow @EyeOnHockey and @StubitsCBS on Twitter and like us on Facebook.