Trial begins in case of Ducks GM being accused of hitting woman with chair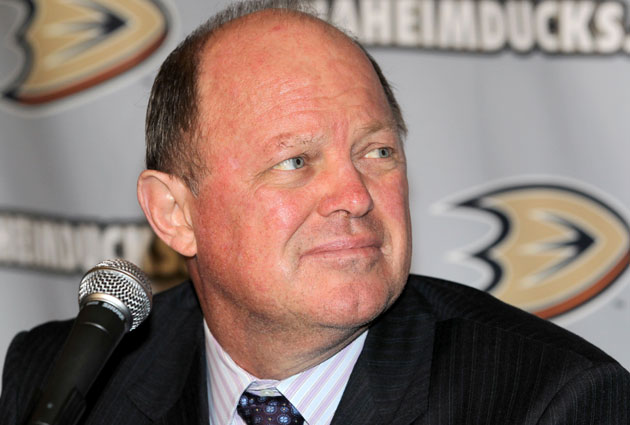 Bob Murray and the Ducks are listed as defendants in the lawsuit. (Getty Images)
Anaheim Ducks general manager is spending some time in Michigan this summer, but not because he enjoys spending summers on the lake shores. Instead he's the defendant in a pretty biazrre case where he was accused of throwing a chair at a woman in 2009.
Let me state that again just in case you misread the first time: Murray and the Ducks are are being sued by a woman who claims Murray hit her with a chair.
It stems from an incident in 2009 when the Ducks were in Detroit to play the Red Wings in a Game 7 and Murray apparently got a little frustrated when the Red Wings scored. Police interviewed him at the time and didn't press any charges but in 2010 the woman, Rachael Paris, named Murray and the Ducks in a lawsuit.
Why bring this up now? Well the trial just began and it's really interesting. I mean we're talking about a guy being sued for throwing a chair. Jim Ross needs to narrate this trial.
The trial got under way Tuesday and David Anshenfelter of the Detroit Free-Press has the info from the first day.
"I saw chair legs coming at me," Rachel Paris told an eight-member jury on the opening day of her civil trial against Murray and the Anaheim Ducks in U.S. District Court in Detroit. "He had picked up the chair, maybe a foot and a half off the ground, and did a jabbing movement."

Paris testified that Murray was holding onto the back of the chair -- a bar stool with long legs -- and hit her twice in the chest, knocking her against the wall of the press box, causing her to fall to the floor. It was unclear whether he was aiming at her or she was merely in the way.

"I yelled at him to stop," she said, describing how she tried to prevent Murray from walking away. "He turned around and glared at me and continued up the aisle."
Whoa.
Paris also said she "aches all of the time" from the incident. She said Murray did come back and apologize to her saying it was an accident. Since then Paris has lost her job, house and car according to her attorney in addition to the health problems.
Sounds rough and I could see why she would seek damages, although that had to be one heck of a chair toss.
But of course Murray has a defense. Back to Anshenfelter because this is just too juicy.
Murray's lawyer, Steven Potter of Auburn Hills, told jurors in an opening statement that Paris is faking.

He showed the jury surveillance video showing that, despite Paris' claims at a 2010 deposition that she had problems with her left shoulder and was unable to walk long distances, she carried home a bag of groceries on a 3-mile, round-trip walk to a supermarket.

Potter played a second video showing Paris pumping gas into a 2 1/2 -gallon can, lifting it with her left hand into the back of her SUV and reaching high overhead with both hands to pull down and close the vehicle's hatchback.

"This is a simple case," he told jurors. "She's not telling the truth."
Hmmm, that wouldn't be too good for Paris. Although am I the only one who raises their eyebrows at somebody makings a 3-mile roundtrip walk to the grocery store? Then again, she might have lost her car by then and at that point what choice would she have?
It's a totally bizarre story that will continue for a little longer as Paris is expected to take the stand again and Murray is likely to testify as well.
For more hockey news, rumors and analysis, follow @EyeOnHockey and @StubitsCBS on Twitter and like us on Facebook.