You can buy the NHL's Stanley Cup presentation red carpet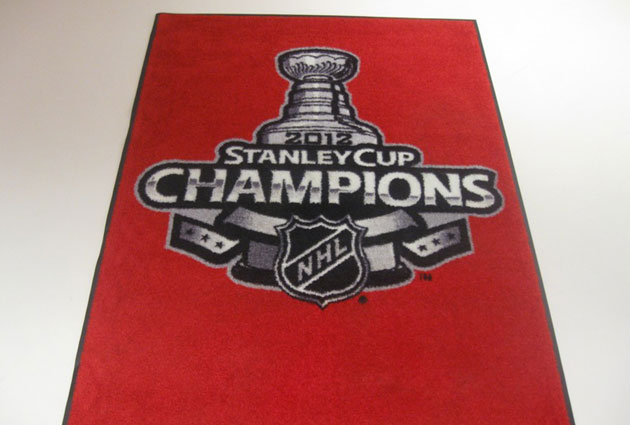 Here is what is up for bids. (NHL.com)
Say, are you looking for that perfect gift for that big L.A. Kings fan in your life? Would you love to surprise them and give them the Stanley Cup for a day?
Well you can't do that, but you can get the next best thing. How about the carpet on which Gary Bettman was booed while he awarded the Stanley Cup to the Kings in June? Remember, this was laying on the Staples Center ice, the ice of champions, just moments after the Kings won the first Stanley Cup in franchise history.
Please explain what they're bidding on today, NHL.com.
Up for bid is the used 2012 Stanley Cup Presentation Carpet. This carpet was used for the Stanley Cup Presentation Ceremony following the Los Angeles Kings Game 6 victory against the New Jersey Devils. The carpet is red and features the 2012 Stanley Cup Logo. It measures approximately 4 feet wide by 10 feet long. The retail value of this carpet is $1,050 USD. This carpet comes with a Certificate of Authenticity from the NHL.
Yes, this red carpet can be yours if the Price ... Is ... Right!
The bidding is open until 11 p.m. ET on Thursday, August 16. Right now the highest bid is at $1,600. Please not that if you are Canadian it's going to cost more to ship it across the border (same goes for you Hawaiians and Puerto Ricans, but I assumed the Canadians would make up a bigger share of the market here).
If you have $2,000 or so just burning a hole in your pocket and love red carpets that not some just regular joes walked all over but champions, then this is the perfect item for you. Happy bidding!
For more hockey news, rumors and analysis, follow @EyeOnHockey and @StubitsCBS on Twitter and like us on Facebook.