Joe Thornton, Rick Nash to play for Swiss team again? Nash, agent deny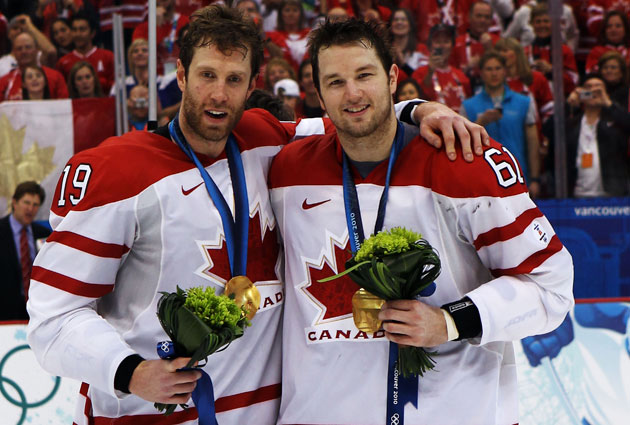 Nash and Thornton have been playing together on Team Canada for years. (Getty Images)
In 2004-05 the NHL was locked out so Joe Thornton and Rick Nash paired up to go play for HC Davos in the Swiss National League A. In 2012-13 when the NHL might be looking at yet another lockout, Joe Thornton and Rick Nash have apparently agreed to pair up and go play for HC Davos once again.
According to HC Davos President Gaudenz Domenig (and thanks once again to Google translate; I don't speak German), the agreement is already set.
President Gaudenz Domenig says: "We have agreed with Joe Thornton and Rick Nash, both will play in such a case again for the HCD."

The two Canadians led the HCD in 2004/05 during the "lost NHL season" to the title. Thornton booked in 54 games 78 points, Nash in 59 matches 57 points. Thornton earned in San Jose next season, $ 7,000,000, Nash in the Rangers 7.6 million. Both have in their entire career with a club team only won one championship: 2005, with the HCD.
Lack of perfect English aside, you can understand the gist of what's going on. Should a lockout be on, Thornton and Nash will be teammates once again.
At least that's what the team thinks.
Darren Dreger of TSN says that's news to Nash and his agent.
Contrary to reports, both Rick Nash and agent Joe Resnick say Rick has no plan to play in Davos if there is a lockout.

— Darren Dreger (@DarrenDreger) August 16, 2012
This was probably HC Davos jumping the gun. I wouldn't be surprised at all if there were some preliminary talks between Nash, Thornton and HC Davos but at this point there is still hope that a lockout this time around won't wipe out a whole season. If we're still in a lockout as December approaches then we might see some movement overseas. Always be prepared, right boy scouts?
"You hope for the best but prepare for the worst," NHLPA head Donald Fehr said on Wednesday after the NHL's response to the NHLPA's first proposal.
With that said, though, it seems to make a lot of sense for both guys.
Remember all the talk about the two being good friends when Nash was on the trade block earlier this year? It was one of the main reasons why the Sharks were in on the pursuit, because of Thornton's presense in San Jose. Eventually the reunion didn't happen as Nash was sent to the Rangers instead.
Whose to say it can't still happen?
Nash and Thornton might be the first big NHL names to be linked to contingency plans but they certainly won't be the last.
For more hockey news, rumors and analysis, follow @EyeOnHockey and @StubitsCBS on Twitter and like us on Facebook.