NHL All-Star Game could be early casualty of lockout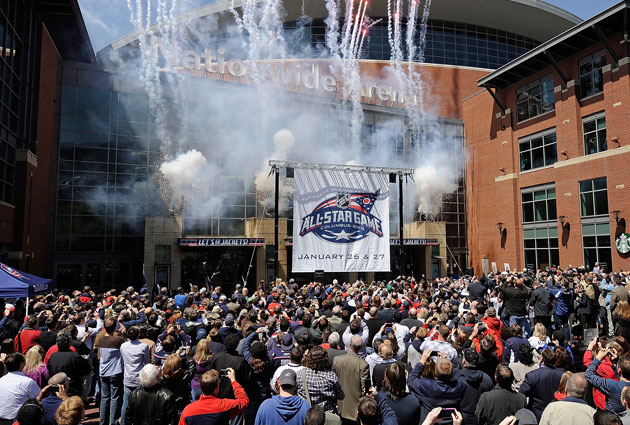 The fireworks might have to wait longer if labor strife gets in the way. (Getty Images)
If the impending lockout in the NHL goes on long enough, the Winter Classic won't be the only major casualty lost among big games on the NHL slate. The All-Star Game set for Columbus could be wiped out way before they even consider axing the Winter Classic.
Why? Well naturally you need to have part of a season to be able to name All-Stars, don't you? (I will conveniently ignore the fact that All-Star teams are often put together without much consideration of current-year stats and instead are more about popularity than high school prom royalty votes.)
How soon would the All-Star Game become a casualty? According to Aaron Portzline of the Columbus Dispatch, not long at all.
If the lockout extends even a month into the season, it could scuttle one of the biggest sporting events ever planned for central Ohio.

During the 2004-05 lockout, that season's All-Star Game, in Atlanta, was canceled on Nov. 3, when the lockout had extended one month into the regular season. The NHL wouldn't comment this week when asked if a similar timeline would be in effect this year.
If a lockout (If!? HA!) does come to fruition then based on the last lockout we're only talking about a month and a half of a work stoppage to cancel the All-Star Game. Now maybe if there is optimism at that point a deal is really close, they might give it a little more time.
It's certainly true that probably only a handful of people are actually crying about losing the All-Star Game. Like all sports, it's pretty much unwatchable. Watching players glide up and down the ice paying no mind to checking of any direction and torch the goalies overdramatically flopping like fish isn't highly entertaining.
The only thing that salvaged the game last year in Ottawa was the microphone that Scott Hartnell was wearing.
At the same time, though, it can't be a fun prospect for the people in Columbus. The city has been in the dumps for so long now with the sagging franchise that it was something to look forward to, even if it's a meaningless exhibition game. In a small way an All-Star Game in Columbus is a boon and gives the franchise at least a small shot in the arm and raise in visibility.
Portzline goes on to mention note that Columbus could very well get the next All-Star Game that comes along. In 2014 we probably won't have an All-Star Game to speak of as the players will be in Sochi, Russia for the Olympics -- this still needs to be negotiated on in CBA talks but I will be absolutely stunned if the players aren't returning to the Winter Games. Then we have 2015, which no site for the game has been announced yet. It would certainly seem appropriate to award Columbus that game should this year's event be cancelled. Atlanta lost out on the game in the previous lockout and was given it again in 2008.
What does any of this do for labor talks? Not a thing. The owners and NHL might feel a little pressure based on the timeline of the Winter Classic and not wanting that to be sacrificed, but I don't think the All-Star Game will have anywhere near the same consideration. The only thing it might do is urge one owner to seek a deal faster, and one out of 30 (or is it 29?) isn't going to exact much pressure.
In my mind every lost game is a bad thing, but I must admit that I'm not horribly broken up about the idea of missing an All-Star Game. Some in Columbus, though, might feel a bit different.
For more hockey news, rumors and analysis, follow @EyeOnHockey and @StubitsCBS on Twitter and like us on Facebook.