NBC would pay NHL even if season canceled, get bonus year at end of contract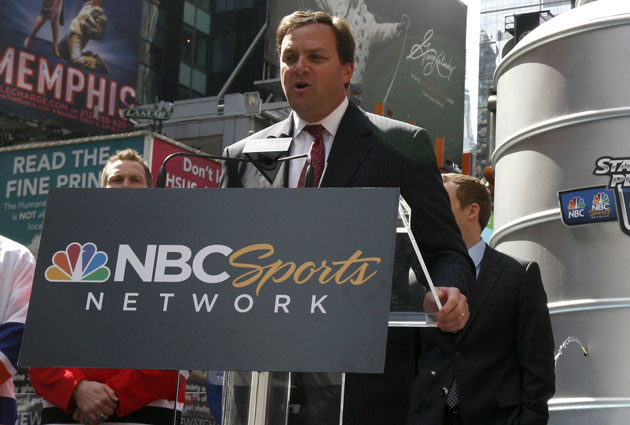 NBC will pay for this season, even if nobody else does. (Getty Images)
Should the NHL suffer another season-cancelling lockout, not all will be lost. Sure, no games will be played but NBC will still pay the league for the right to not broadcast games.
In last year's television contract negotiations, the NHL decided to extend its parnership with NBC and its affiliates by signing a 10-year contract worth $2 billion ... or $200 million per year. Player agent Allan Walsh tweeted out on Wednesday that that money will be due, season or not.
If lockout wipes out 2012-13 NHL season, NBC makes $200M payment to league and extra year is added onto deal for no rights fee.

— Allan Walsh (@walsha) August 22, 2012
So alright, it's not a bum deal for NBC, they would get a payback season at the end of the deal for free. If there is no season than the 10-year deal becomes an 11-year deal with the last year a bonus. They are paying for 10 seasons worth of games, they will get 10 seasons worth of games.
As a result of this, there will be $200 million to split up among the 30 teams, or $6.67 million per team, during a lockout. Considering that some teams lose money running their clubs and paying their salaries, they could actually be looking at a year in the black should a lockout arise. Again, that's obviously only for the teams that hemorrhage cash.
Would it be enough money to placate some of the owners into believing another lost season isn't all that bad? I doubt that. The repurcussions of another lost season would be felt down the line. Some fans will come back no matter what, sure, but not all of them. In the grand scheme of things I can't imagine how a lost season is good for business in any stretch of the imagination.
But it's at least something to think about. The idea of actually taking in a little money in the next year might be perfectly digestable by some. For the teams that make a lot of money in a season? Well this would hardly even qualify as a consolation prize.
For more hockey news, rumors and analysis, follow @EyeOnHockey and @StubitsCBS on Twitter and like us on Facebook.