NHLPA continues to work on response to league's latest offer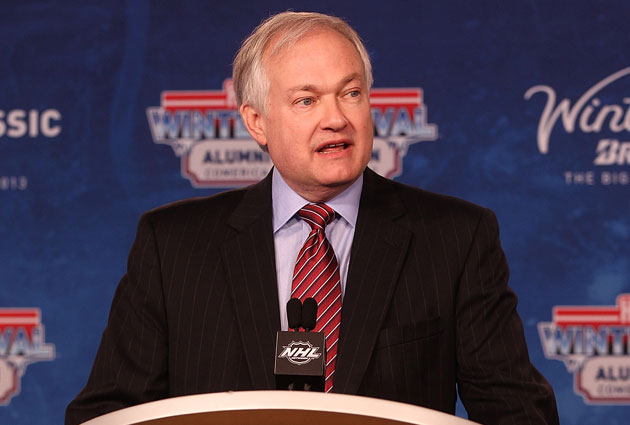 The NHL and NHLPA met for 90 minutes on Wednesday to discuss Tuesday's offer. The players continue to work on a new proposal of their own. (Getty Images)
The NHL and NHLPA met again on Wednesday afternoon to continue to discuss the offer the league presented to the players on Tuesday.
To the surprise of no one no deal was finalized, and according to union leader Donald Fehr the players are working on a response to the offer and hope to have one to present before the end of the week.
More talks are scheduled between the two sides through Friday.
Reports started to surface on Tuesday evening detailing the league's latest offer, which would eventually lead to a 50/50 split of hockey related revenue in the eyes of the league.
The problem is that the NHL is looking to change the definition of hockey related revenue, so even though the NHL would view it as being split down the middle, the players would still be getting less money than they currently are.
According to Fehr, the league's latest offer would give the players a 46 percent cut under the current definition of HRR -- a point that Bettman confirmed -- which is up from the 43 percent that was part of the league's initial offer a few weeks ago.
Under the league's latest proposal the salary cap in 2012-13 would be set at $58 million and would not reach $70 million until 2017-18.
After Tuesday's meetings Bettman described the league's offer as having "significant and meaningful movement," and then added on Wednesday that their latest offer "moved more money" than the players first offer to the league.
"I hope it's clear our intention is to make a deal we hope is fair," said Bettman.
If you're keeping score at home, we're now 17 days from the September 15 deadline and you probably shouldn't expect any significant movement from either side until we get closer to that date. Or past it.
For more hockey news, rumors and analysis, follow @EyeOnHockey and @agretz on Twitter and like us on Facebook.