Shane Doan has deal in place with Coyotes, still awaiting ownership resolution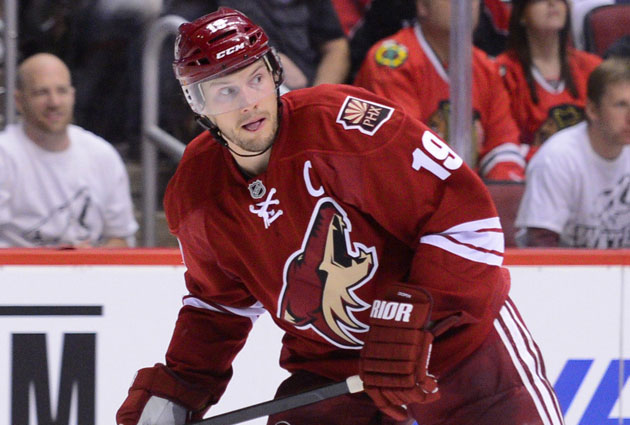 Shane Doan says he already has an agreement with the Coyotes and is simply waiting for the final word on the team's ownership. (Getty Images)
It's been a few weeks since we've had an update in the Shane Doan free-agency saga (and maybe you've enjoyed that break), so it's probably time to fire another one back up.
The long-time Coyotes captain appeared with Dan Bickley and Mike Jurecki on Xtra 910 in Phoenix on Thursday afternoon and confirmed what his agent already said a few weeks ago: he plans to sign with a team by midnight, Sept. 15. That's great. But the question that remained was which team would end up acquiring his services. A return to Phoenix? Or one of the many teams that spoke to him and/or offered him a contract over the summer?
As it turns out, Doan said on Thursday that he already has a deal worked out with the Coyotes (and that his focus has always been to remain with the Coyotes) and is simply waiting for the ownership situation with Greg Jamison and the lease agreement with the city of Glendale to get settled. If that happens, he said the deal can officially be signed relatively quickly.
If all that falls through? Doan said he has a couple of other teams that he's talked to and would then have to make the tough decision to leave the only organization he's ever played for.
"To be honest, with the way that it's set up right now, I'd like it to be done a few days earlier than the 15th," Doan said. "I'd like it to be done today. If someone was able to tell me today that it was done, we'd be able to get everything worked out.
He continued: "Like I said, Don Maloney and Dave Tippett and the organization, Mike Nealy, they've all been great and encouraging me that they're going to get it done and not worry and so has Mr. Jamison. So I'm not that concerned. But at the same time, I'm not so naive. It has to end. It has to just for competitive balance for our team. We want to be on the same playing field as everybody, and so I'm hoping that it gets done here this week. I don't think I'd need too many days to get it signed after it's done. But at the same time, if it doesn't, there's a few other teams that I've talked to. I have to make a phone call and make sure that it would work out with them."
(The full transcript of his appearance can be viewed here)
While Doan did not name the teams, the Rangers, Flyers, Penguins, Canucks, and Sabres have all been mentioned as possible destinations.
Doan, who turns 36 on Oct. 10, scored 22 goals to go with 28 assists with the Coyotes last season.

For more hockey news, rumors and analysis, follow @EyeOnHockey and @agretz on Twitter and like us on Facebook.