Milan Lucic signs three-year extension with Bruins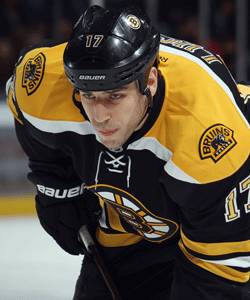 Milan Lucic has signed a three-year extension with the Bruins. (Getty Images)
The Boston Bruins continued to lock up players to long-term contract extensions in advance of the NHL lockout on Saturday. The latest player to get a new deal is power forward Milan Lucic, who agreed to a three-year contract extension.
The Bruins did not release financial terms of the deal. It's reportedly worth $18 million, which comes out to a salary cap hit of $6 million per year. His current contract, which expires after the 2012-13 season, pays him just a little over $4 million. He would have been a restricted free agent after this season.
Lucic, a second-round draft pick by the Bruins in 2006, has scored 90 goals in 359 games, including 26 last season. He plays a physical game (just ask Ryan Miller), can score 25 goals a season and is usually the first guy on the team willing to drop the gloves when the situation comes up.
In the days leading up to the lockout, NHL teams have been spending like crazy in an effort to secure players to contracts under the current agreement. No team has been as active as the Bruins. Over the past week, Boston has reached agreements with Lucic, Tyler Seguin and Brad Marchand, handing out more than $70 million in salaries.
Lucic is now signed through the end of the 2015-16 season, one of six Bruins locked up that long.
With Lucic, Seguin and Marchand secured, the only Bruins eligible for free agency after the 2012-13 season are Nathan Horton (unrestricted), Jordan Caron (restricted), Andrew Ference (unrestricted) and Tuukka Rask (restricted). Tim Thomas, who said he plans to sit out the 2012-13 season, is also unrestricted.
For more hockey news, rumors and analysis, follow @EyeOnHockey and @agretz on Twitter and like us onFacebook