NHL Lockout: Your daily hockey fix for Day 9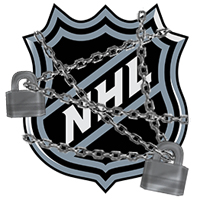 This is Day 9 of the NHL lockout, 2012 edition. Every day, we'll serve up some CBA talk and help you get your hockey fix. Let's begin, shall we?
CBA roundup
• The games-missed counter, for the time being, remains at 60 exhibition games.
• As many expected, the Swedish Elite League changed course on its policy to sign NHL players to short-term contracts during the lockout. The first two players headed to the SEL this time around? The Blues' Alexander Steen and Tobias Enstrom of the Jets, who are both going to play for Modo and GM Markus Naslund. (The Fourth Period)
• Well here is a new idea to try and solve the labor impasse at the moment: Cut the league down by folding teams and moving others to Canada. This is what Barrie McKenna calls the "hoser effect."
NHL Lockout
| | |
| --- | --- |
| | |
More NHL coverage
"Channel your fury and demand that NHL commissioner Gary Bettman give the game back to its rightful owners – die-hard Canadian hockey fans. It's the free-market thing to do." (The Globe and Mail)
• We all know by now that the battle in the court of public opinion means very little to the actual negotiations between the union and the league. Still, Bruce Arthur notes that the NHL couldn't have had a worse week for its image if it had tried.
"But this week stunk for the NHL, too. Worse than the hockey bags would, by a mile." (National Post)
• The money remains the biggest part of the negotiation conversations between the two sides, but there is a lot more on the table that needs to be discussed. Whenever they get somewhere on the makeup of the next CBA in terms of how to split the money, John Shannon points to seven issues that will have to be sorted out next, including how to treat the Olympic Games. (Sportsnet)
Hockey fix
Today we take you back to February for one of the most remarkable individual games you will ever see: The night Sam Gagner of the Oilers went crazy and scored a franchise record-tying eight points (4+4=8) in one game against the Blackhawks.
For more hockey news, rumors and analysis, follow @EyeOnHockey and @StubitsCBS on Twitter and like us on Facebook.