NHL lockout: Your daily hockey fix for Day 16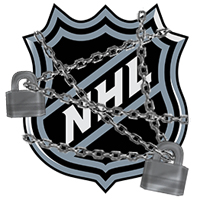 This is Day 16 of the NHL lockout, 2012 edition. Every day, we'll serve up some CBA talk and help you get your hockey fix. Let's begin, shall we?
CBA roundup
• The games missed to this point remains the entire exhibition schedule (97 games).
• Here's the look at where things stand after Sunday's negotiations in New York, which obviously didn't yield any sort of deal. Eye on Hockey
• Do you wonder how much power Gary Bettman actually has in the NHL? Some say he's just doing the dirty work for the owners; others say it's all up to Bettman and what he wants he gets. The question boils down to who works for whom? Jeff Z. Klein takes a look.
At a time when another big-time commissioner, Roger Goodell of the N.F.L., seems like a tailback desperately navigating a broken field of competing owners, Bettman comes off quite differently. He is the undisputed captain of his team, ready to be as rough in the corners as he needs to be to win.

It is hard to envision Bettman, the arrogant-seeming little guy with a Queens accent, skating or checking. But he approaches his job with a thoroughness and ferocity that any hulking N.H.L. forward would recognize. (New York Times)
• When you read or hear about hockey-related revenue (HRR), do you wonder what it actually encompasses? What constitutes HRR, and what doesn't? It's not as cut and dry as you'd think, and it's exactly why a 50/50 split in the HRR isn't seen as a 50/50 split in the players' eyes.
This story from Elliotte Friedman is a little old, but the information remains the same -- taking a look at the NHL's definition of HRR in the now-expired CBA. (CBC)
• Not every player is going overseas to continue getting ice time during the lockout. Some guys, mostly the young ones, are staying in North America and playing in the AHL. Like promising Rangers prospect Chris Kreider.
The Boston College product probably didn't foresee playing in the AHL so soon after leaving school -- remember, he jumped right into the playoffs with the Rangers after BC finished its season -- but at least he's getting the chance to play. Based on what he was able to do in the playoffs for the Rangers, it should be worth watching him in Connecticut to see what kind of numbers he can put up. (Ranger Rants)
Hockey fix
It has been a long while since Islanders fans have had anything to cheer about, so we're here to help. Take a trip back in time to 1980 and Bob Nystrom's overtime and Stanley Cup-clinching goal to give the Isles their first Stanley Cup and kick off what would become a dynasty in the early '80s with four straight crowns.
For more hockey news, rumors and analysis, follow @EyeOnHockey and @StubitsCBS on Twitter and like us on Facebook.