NHL lockout: Wayne Gretzky thinks NHL season will begin by Jan. 1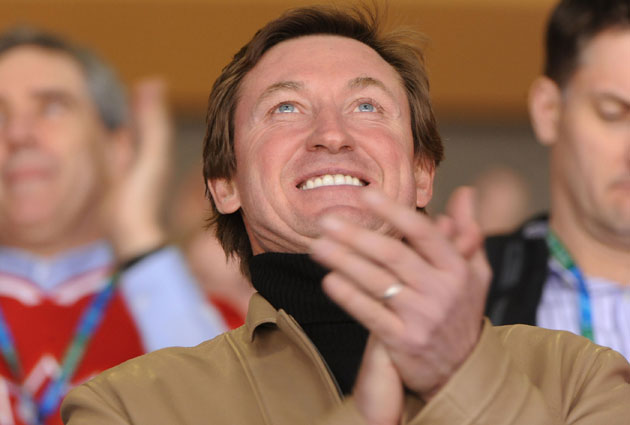 Wayne Gretzky expects to be cheering hockey this season. (US Presswire)
Will they play NHL hockey this year, or won't they? That is the question. Everybody hopes the answer will be yes, but not everybody thinks the answer will be yes.
Wayne Gretzky does, though.
Speaking to the Canadian Press, Gretzky said he thinks the lockout will end in enough time to play the season -- and the season's biggest regular-season game.
NHL Lockout
| | |
| --- | --- |
| | |
More NHL coverage
"I believe in my heart, maybe because I'm such a big hockey fan, that they will be playing by Jan. 1," Gretzky said in a Q&A session in Toronto. "I think the hard part of their deal was the last negotiations [in 2004], of players agreeing to a salary cap.
"Now that there is a salary cap in place and revenue sharing, I see them ultimately getting a deal done here and I see them playing hockey this year."
Considering there is only one game slated for Jan. 1, the Great One is expecting the Winter Classic to still take place at the Big House in Michigan between the Maple Leafs and the Red Wings. Some continue to view that as a major factor in CBA negotiations. The league especially doesn't want to miss out on the Classic, even if it has already threatened to cancel it.
The optimism from Gretzky is great, it gives you a warm, fuzzy feeling like whiskey on an Albertan winter day. It would sound a lot better, though, if Gretzky had any sort of say in the labor negotiations. Unfortunately, he's not in the picture for either the players or the owners.
He certainly has a point that it wouldn't seem like this lockout should last as long as the previous one did and wipe out the entire season. They aren't trying to reinvent the wheel this time, just trying to patch the holes and stop the leaks.
"Now it's a question of working out the number that both sides think is fair," Gretzky said.
Unfortunately, that's the toughest question of all and is a lot easier said than done. Right now, each side has a completely different definition of fair, both of which, oddly enough, seem to be fairer to their respective agendas.
Hopefully, Gretzky is the Great Prognosticator and not just the Great One and that his feeling about the season is dead on. It's hard sometimes in this dark tunnel to see the light, so we'll take any kind of guidance, even if it's nothing more than hopeful, we can find.
For more hockey news, rumors and analysis, follow @EyeOnHockey and @StubitsCBS on Twitter and like us on Facebook.