NHL lockout: NHL reportedly has no plans to visit Ann Arbor this month, and that may not matter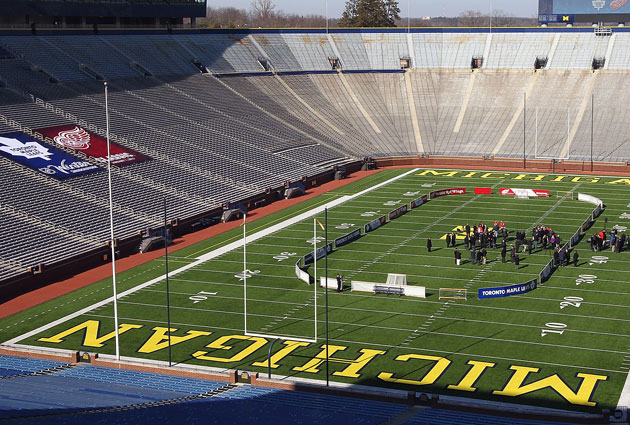 The Detroit Free Press reported Tuesday that the NHL operations department has no trips to Ann Arbor, the host of this season's Winter Classic, scheduled for this month, which was painted as a dire sign for the league's marquee regular-season game.
This season's game is scheduled for Jan. 1 with the Detroit Red Wings playing host to the Toronto Maple Leafs.
From Helene St. James of the Free Press:
Were the 2012-13 schedule under way as normal -- were the Winter Classic not at risk -- operations people would have had a great opportunity to see Ann Arbor at its busiest this month. This Saturday is homecoming, and Michigan State visits the Big House on Oct. 20...

... Staging the event in Ann Arbor requires more planning than usual by the NHL, as Michigan Stadium is not used to having so much of the attendance for football games arrive via vehicular traffic, nor being operational during the winter.
On the surface, it's not hard to see why this could be considered bad news. But it really doesn't mean anything at this point. The NHL already attented a Michigan football game this season (the Sept. 8 home opener against Air Force) and has made numerous planning trips over the past year.
A league source told CBSSports.com on Tuesday that the league isn't doing anything out of the ordinary this year when compared to previous Winter Classics that were held in Buffalo, Chicago, Pittsburgh, Boston and Philadelphia.
There is anxiety around the possible cancellation of the Winter Classic due to the ongoing labor negotiations that have already wiped out the first two weeks of the regular season. The Winter Classic is a cash cow not only for the league but also for the host city. As our Brian Stubits passed along on Tuesday, via Kukla's Korner, the Detroit area could lose somewhere in the area of $50 million-$60 million in revenue if the game isn't played. And that's a big deal.
The other issue is that, if we get to Jan. 1 with no hockey being played, that doesn't bode well for any hockey to be played this season.
Last month, it was reported the NHL could cancel the Winter Classic as early as November if a new CBA isn't reached by then.
The game might very well end up being canceled if this labor dispute continues to linger, but a lack of a visit by the league in October doesn't really put us any closer to that scenario.
For more hockey news, rumors and analysis, follow @EyeOnHockey and @agretz on Twitter and like us on Facebook.