NHL lockout: League allowed GMs to talk to players; NHLPA not pleased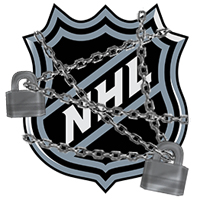 Just when things started to seem like they were progressing and a resolution to the lockout could be approaching, the lack of trust between the NHL and NHLPA has started to make its way back into the equation.
Over the weekend, the NHL opened a 48-hour window for general managers to speak to players regarding the CBA negotiations. Remember, during the lockout no communication is allowed from the teams to the players in any capacity. If they do, then problems can arise.
Considering the NHLPA wasn't really aware of the NHL's move, it's causing some problems.
"Most owners are not allowed to attend bargaining meetings," the NHLPA's Steve Fehr said in a statement. "No owners are allowed to speak to the media about the bargaining. It is interesting that they are secretly unleashed to talk to the players about the meetings the players can attend, but the owners cannot."
You'll notice some interesting choice of language such as "secretly unleashed," which makes it sound all the worse. But the union would seem to have a legitimate gripe here -- the NHL allows for something that presumably is there to help its place in the labor talks.
What exactly were the GMs authorized to talk about? Well, the league sent them all a memo that was obtained by Yahoo Sports. Here is some of the memo:
"We understand that some of you are being contacted by one or more of your Players and that your inability to respond substantively is creating some awkwardness in your relationships.

"Accordingly, and only between now and 11:59 pm (local time) on Friday night (10/19), the NHL By-Law 17.17 prohibition will not be applied to conversations that result from you being contacted by your Players -- PROVIDED, THAT ANY SUCH CONVERSATIONS ARE STRICTLY IN ACCORDANCE WITH THE RESTRICTIONS SET FORTH IN THIS MEMORANDUM. A failure to follow these rules can both set us back in our effort to resolve this work stoppage and cause serious legal problems and will be deemed a violation of NHL By-Law 17.17 (subject to appropriate penalties).

...


"YOU MAY NOT: 'Negotiate' with a Player.' This means you may not explore alternatives or variations to the proposals on the table. As a matter of labor law, you are permitted to express the views and opinions of the Club and the League concerning the proposal."
You can see the entirety of the memo on Puck Daddy.
It doesn't seem that bad when you look at it. The GMs were told pretty explicitly that they shouldn't try to convince the players that the NHL's offer is great, just that they can answer questions about it.
To put it another way, NHL deputy commissioner Bill Daly called it "a non-event." Nothing to see here, right?
Not unless you look at it from another angle. The NHL looks like it was trying to speak directly to the players instead of having its words go through Donald Fehr. That's certainly what it looks like, and it's understandable why the NHLPA wouldn't be happy about that.
This has the potential to really blow things up. Pulling a move behind the backs of the union is not going to make the players want to be more agreeable to the owners and the league in these negotiations. Things seemed to be going well, but this might derail things. It's possible the NHLPA will just air its grievances and then move on for the sake of trying to reach a deal, but this could be bad.
If the NHLPA wants to, it could make this a bigger deal.
NHLPA could declare GMs speaking with lockout-out NHL players last weekend as "unfair labor practice." See my notes from this am.

— Chris Botta (@ChrisBottaNHL) October 23, 2012
You'd have to say that's about the last thing that we want now. Getting into battles over labor practices would gum up the process of reaching a deal.
It's possible this will blow over harmlessly and things will get back to where they were. We certainly have to hope that's what the case will be. But the NHL might have just made a pretty big blunder.
Let's put it this way: This situation certainly won't help the negotiations.
For more hockey news, rumors and analysis, follow @EyeOnHockey and @StubitsCBS on Twitter and like us on Facebook.