NHL lockout: Jack Johnson calls rollback 'appalling, unprofessional and disgraceful'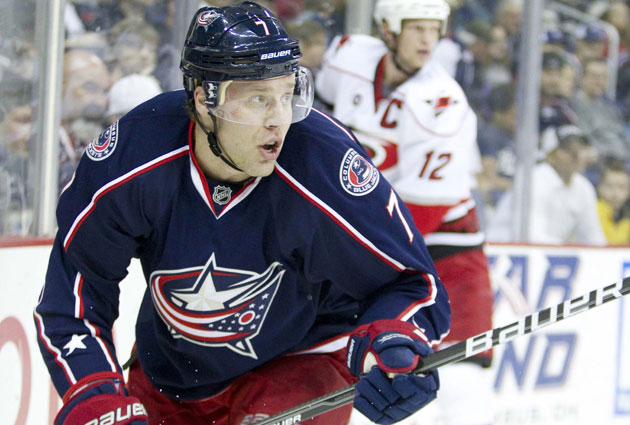 Johnson just wants to get back on the ice. (Getty Images)
Just in case the players' No. 1 rallying cry wasn't clear enough, Columbus Blue Jackets and Team USA defenseman Jack Johnson took another shot at clarifying it.
Writing on his own blog -- which is ironically powered by NHL.com -- Johnson shared his thoughts on the lockout. As you could probably guess, he's not a fan of it. In his brief post, he bemoaned there is no NHL right now, making a pretty salient point about how his short career (hockey players are lucky to play to age 40) is being cut a year shorter by this.
But Johnson was a bit productive in the post, too. OK, perhaps productive is a bit of a stretch considering it's nothing more than just another player's opinion, but he laid the party line out there pretty clearly -- and in his own, more forceful words.
The concept that the owners are trying to dismantle existing contracts that they in good faith offered, signed, and committed to is appalling, unprofessional, and disgraceful. I negotiated my own contract, without an agent, with the confidence and belief that the owner offering me that contract operated by the same convictions and principals as I do. During the summer, the players offered to play through negotiations and the owners locked us out. We want to play hockey! Where is the honor? I'm ready to play and uphold my end of the deal!
If at this point you don't get what the biggest issue the players are fighting for in these CBA talks, then I don't think I can help you. They all want the contracts that they've already signed to be paid in full; salary rollbacks aren't on the table for them.
You do wonder how much of it at this time is the union telling the players to articulate the party line in their public statements to really hammer home the point. Obviously, nobody wants less money to play, but it seems hard for me to believe the players making a ton of money would be incredibly upset at a rollback like the players who are near the bottom of the salary totem pole.
Either way, the union and its constituents remain on key with their continued singing of this point in the CBA negotiations. At least we can all agree with the other half of Johnson's post in that he just wants to play. We all would love to see that happen.
For more hockey news, rumors and analysis, follow @EyeOnHockey and @StubitsCBS on Twitter and like us on Facebook.