Was car of CHLPA head, former NHLer Georges Laraque sabotaged?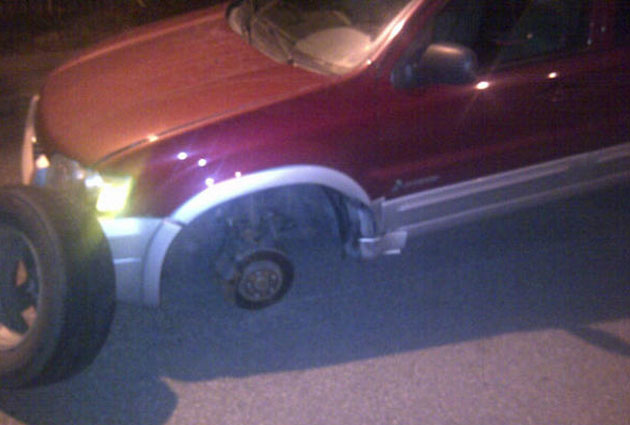 Laraque tweeted a photo of his car after the tire mishap.
These days Georges Laraque isn't beating up fellow players in the NHL; he's trying to battle the CHL by representing players with the newly-formed CHLPA. Since its inception a few months ago it's been ... something, and it gets stranger all the time.
On Tuesday, Laraque was driving when the bolts on his tire started to come off. He was not hurt, but it raised suspicion ... from Laraque and the CHLPA.
The CHLPA released a statement regarding the incident on its Facebook page.
The CHLPA is happy to know that Georges Laraque was not injured yesterday, Oct 30th, 2012 after the bolts on the front wheel of his Hydrid [sic] vehicle were loosened, causing him to lose control of his vehicle on the highway. "I must have a guardian angel" Laraque said, after realizing that he was the victim of vandals in their attempt to sabotage him "It's disgusting" He said.

Laraque's Hybrid vehicle was tampered with yesterday, almost causing him to lose control of his vehicle, as well as putting other drivers who were on the highway at the same time as him in harms [sic] way. The seriousness of the situation seems to have escalated over the past few days from random people making threats via prank calls, to loosening bolts on tires so they'll fall off while driving.

However, Laraque on twitter today, wishes to forget the tragic events of yesterday and would like to wish each and everyone a very Happy Hallowe'en.

We are all very happy to know that Georges is well and will not be deterred from focusing on what's really important and that's education.
Whoa, now. Things are contentious over the CHLPA and its attempt to get adopted as a union, but would somebody really do this to Laraque's car? Was it just some random vandals? Or -- and this has to remain an option I suppose considering how weird this whole saga is -- is it being blown out of proportion?
Who knows, but the timing is certainly odd. A team in Quebec, the Sherbrooke Phoenix, became the first to more or less open up to the CHLPA. Next, the union could actually be certified in that province.
Nobody can know for sure what the heck is going on and if Laraque's car was sabotaged, but if it was then this is a very dangerous game being played. It goes without saying it could be fatal if a tire were to come off a car on the highway, which is what makes it seem all the more bizarre. Who would want to go to that extreme and why?
This all happens while the identity of Derek Clarke, the spokesperson for the CHLPA, is in question. Some say he is former junior coach Randy Gumbley, who was convicted on fraud charges. The CHLPA has denied this to be the case.
This story is one big mess that doesn't seem to have a clean side to it. Basically, Chris Peters sums up the whole thing pretty well here.
Mystery men. Multiple Clarkes and Gumbleys. Terrible grammar. Tire tampering. Private investigators. I <3 you, last 24 hours.

— Chris Peters (@chrismpeters) November 1, 2012
All we can really say about this story is thankfully Laraque wasn't hurt.
"I must have a special angel, just lost the wheel on the highway, could have died..." he tweeted on Tuesday night.
The CHLPA is trying to unionize the junior players across its leagues and help them get certain benefits, the top of their agenda seeming to be greater education packages for the players after their junior hockey days are done. This unionization attempt is being met with considerable opposition, mostly from the teams and leagues of the CHL.
H/t to Pro Hockey Talk
For more hockey news, rumors and analysis, follow @EyeOnHockey and @StubitsCBS on Twitter and like us on Facebook.