NHL lockout: Saturday talks go well into night; sides plan to meet next week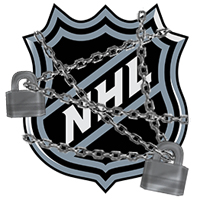 On Saturday, the NHL and NHLPA decided to do things a little different. NHL deputy commissioner Bill Daly and the NHLPA's lead counsel, Steve Fehr, got together in a (still) undisclosed location to talk.
And, boy, did they talk. The two men burned the midnight oil, chatting about the ongoing lockout and how to end it well past midnight into Sunday morning. After weeks of no meetings, apparently they had a lot to catch up on (and more than "how's the wife?" we hope).
The main point behind having the meetings at a secret location was to avoid the media scrums and the barb-tossing that both sides have partaken in that have not done much to help this process along. So there were few updates this time, but Daly did issue a small statement after the meeting to at least whet everybody's appetite.
"We met on and off for most of the day and covered a lot of ground," Daly told the Canadian Press. "We plan to meet again early in the week."
On Sunday morning, Steve Fehr had a short statement of his own, echoing what Daly said.
"I agree with what Bill said. Hopefully we can continue the dialogue, expand the group, and make steady progress."
It's hard to determine what's the best bit of news from this; the fact that they were able to stay in the same room together for most of the day and actually cover some ground or that they are going to meet again in a couple of days. The answer is probably neither of those: it's that the two sides actually agreed on something. To be clear, none of this can be misconstrued at this point as being bad.
One can, however, look at it with a cynical eye. The pessimist in you will note how these meetings came just after the NHL announced the cancellation of the Winter Classic, so this is damage control. The optimist will say even if it is that, they are still getting together and no way did they not at least make a little progress on these matters. Why else would they give up a perfectly good Saturday to go nowhere -- there was some great college football to watch.
To pour a little cold water on things, just because they covered a lot of ground doesn't mean they actually got much closer to an agreement. It's a likely conclusion, yes, but it doesn't necessarily equate to progress. However, they plan to meet again soon. So if there was very little progress made on Saturday, there's a good chance they will get somewhere this week.
It's about time these discussions seemed to take a real turn for the better, though. Having discussions that are long and presumed meaningful are long overdue. For too long it has seemed like there wasn't a true effort being put forth by either side to end this lockout. This is a definite start.
For more hockey news, rumors and analysis, follow @EyeOnHockey and @StubitsCBS on Twitter and like us on Facebook.