NHL lockout: Molson Coors will seek compensation from NHL due to lockout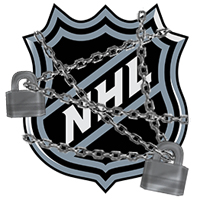 Apparently hockey fans drink a lot of beer, and when the NHL is more than 50 days into its third lockout in the past 18 years that tends to put a bit of a dent in the bottom line of North America's breweries.
And at least one of them isn't happy about it.
Peter Swinburn, the CEO of Molson Coors, told The Canadian Press on Wednesday his company has not only taken a hit financially due to the cancellation of NHL games over the past two months, but it will also be seeking compensation from the league once the lockout ends.
"Whether it's people not actually physically going to the venues and consuming there, consuming in venues around the outlet before that, or indeed having NHL sort of parties at home, all of those occasions have disappeared off the map and you just can't replicate them," Swinburn said.
He couldn't specify the exact amount the company would seek because at this point he still doesn't know -- nor does anyone else -- how long the lockout will continue. It started on Sept. 15 and all games through the end of November have been canceled.
The two sides met Wednesday at a secret location in New York to discuss the league's "make whole" provision. It was the second consecutive day of talks and the third time since Saturday that they met face-to-face. Before Saturday they hadn't been in the same room together since Oct. 18.
Tuesday's meeting lasted for more than seven hours.
The lockout has already cost the league 326 regular-season games as well as the Jan. 1 Winter Classic. That game was supposed to involve the Detroit Red Wings and Toronto Maple Leafs at Michigan Stadium in Ann Arbor, Mich. It was set to be the largest crowd to ever watch a hockey game in North America. The Red Wings will instead get to host the game next season.
For more hockey news, rumors and analysis, follow @EyeOnHockey and @agretz on Twitter and like us on Facebook.