CBSSports.com: Hobey Baker Award contenders -- Week 5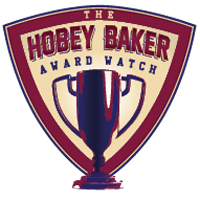 Every week this season, Eye on Hockey will be tracking the best players in college hockey as they compete for the ultimate individual prize, the Hobey Baker Memorial Award.
The Hobey Baker Watch is a collaboration between Eye on Hockey blogger Chris Peters and CBS Sports Network Hockey analyst Dave Starman.
I've got to start this week's Hobey Watch with a quick shout out to Starman, who is one of the many people directly affected by superstorm Sandy. Make sure to send him some warm thoughts on Twitter, and don't forget to tune in to watch him as hockey coverage begins next Thursday on CBS Sports Network.
It's still early in the season, but don't tell that to our Hobey candidates. The way these guys are playing, it might as well be March.
The casual observer tends to underestimate just how hard it is to produce at a high rate in college hockey. The physical strength and smarts among the players, particularly the defensive awareness, is advanced in college hockey. That commitment to defense doesn't always allow the skill players to shine, but that doesn't seem to be an issue in 2012-13 with 15 players already achieving double-digit point totals just five weeks into the season.
Once again, it's Kyle Flanagan leading the way on the Hobey Watch. The nation's leading scorer has familiar company this week as St. Lawrence teammate Greg Carey makes the top four for the first time this season. The pair have been ripping through opponents, and they don't even play on the same line typically, so they're not reliant on each other to produce.
Johnny Gaudreau sticks in the No. 2 spot, as he continues to score big goals for Boston College. Denver's Nick Shore stays in the top four with a two-point weekend. Nick Bjugstad, our preseason No. 1, is off the list for the first time this season. But expect him to be a guy who remains in the hunt. Also, keep a close eye on another of our preseason picks as Bentley's Brett Gensler continues producing points at a huge rate.
1. Kyle Flanagan – St. Lawrence
Position: Forward
Class: Senior
Ht: 5-9 Wt: 179
Season Stats: 6 GP, 6g-9a—15pts
Comment: Flanagan keeps right on rolling this season, with four more points over the weekend against Alabama-Huntsville, including this nifty between-the-legs goal. St. Lawrence is climbing the national rankings, and Flanagan only continues to solidify his place as a legitimate Hobey threat out of the ECAC. Leading a resurgent team should earn Flanagan some major bonus points if St. Lawrence can keep rolling like this. The Saints open conference play this weekend on the road with games at Brown and Yale.
2. Johnny Gaudreau – Boston College
Position: Forward
Class: Sophomore
Ht: 5-7 Wt: 150
Season Stats: 7 GP, 4g-5a—9pts
Comment: It seems just about every weekend, Gaudreau scores a big goal for the Eagles. Of his four this season, three are game-winners. He's the leading scorer for the No. 1 team in the country. If he can keep it up, that will go a long way in making voters ignore his sophomore status. Gaudreau will get a big test on Friday at home against Notre Dame, and on Sunday against archrival Boston University. These are probably the two biggest games so far this season for the Eagles.
3. Greg Carey – St. Lawrence
Position: Forward
Class: Junior
Ht: 5-11 Wt: 195
Season Stats: 6 GP, 6g-7a—13pts
Comment: Sure, Flanagan has been getting all the attention early, but Carey is equally deserving. With at least one point in every game this season, he has been just as consistent but only two points less prolific. Carey had three goals over the weekend against Alabama-Huntsville, and this type of productivity is nothing new for him. He was a point-per-game player in each of his first two seasons but has started this season at double that production rate. Scary.
4. Nick Shore -- Denver
Position: Forward
Class: Junior
Ht: 6-0 Wt: 190
Season Stats: 6 GP, 5g-6a—11pts
Comment: Though the red-hot Pioneers were slowed last Friday by St. Cloud, they revved it right back up for the back half of the home series. Shore added another goal and assist to his point total and continues to be the focal point of Denver's explosive offense. Shore stepping up like he has for one of the best teams in college hockey won't go unnoticed. A tough road series awaits Denver this weekend at Minnesota State, which is riding high after upsetting Minnesota last week.
Others to watch:
Brett Gensler -- F -- Jr. -- Bentley
Nick Bjugstad -- F -- Jr. -- Minnesota
A.J. Treais -- F -- Sr. -- Michigan
Nic Dowd -- F -- Jr. -- St. Cloud State
Austin Czarnik -- F -- So. -- Miami