CBSSports.com College Hockey Power 10, Week 5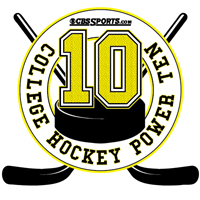 Every week here at Eye on Hockey, we'll provide the CBSSports.com College Hockey Power 10, highlighting the top teams across college hockey. And with the NHL locked out, what else are you going to watch to get your hockey fix?
The CBSSports.com College Hockey Power 10 is a collaboration between Eye on Hockey blogger Chris Peters and CBS Sports Network Hockey analyst Dave Starman.
Last weekend was a fairly rough one for top teams across college hockey, with many battling through series splits. The same can't be said for Boston College, however, which remains the No. 1 team on the Power 10 for the third straight week after notching two more wins last week. It's pretty much BC and everybody else just falling in line behind the defending national champs right now.
Denver, which had a stumble of its own last weekend, inched past Minnesota on the Power 10 this week as the Gophers fell victim to another road upset. Union is another team trending up this week as the Dutchmen have gone unbeaten since an opening-night loss.
There is a litany of games this weekend that could create a lot of movement on the Power 10 next week, led by BC, which will take on two Power 10 teams in Notre Dame and Boston University. North Dakota will meet a St. Cloud State team that is right on the cusp of making a move up the charts, while Union has a tough test of its own with a Friday night contest at Harvard.
Don't forget, CBS Sports Network's college hockey schedule kicks off Nov. 15 with a dandy of a game as Notre Dame travels to Ann Arbor for a date with the Michigan Wolverines. We'll have a full preview of that contest on Eye on Hockey next week.
Friday, Nov. 9

Providence at UMass -- 7 p.m.
Notre Dame at Boston College -- 7 p.m.
Alaska at Ohio State -- 7:05 p.m.
Saturday, Nov. 10
Alaska at Ohio State -- 7:05 p.m.
Michigan State at Michigan -- 7:05 p.m.
This week's college hockey TV schedule (all times ET):
Friday, Nov. 9
Boston University at Merrimack -- 7:30 p.m. (Fox College Sports)
Sunday, Nov. 11
Boston College at Boston University -- 5 p.m. (NESN)
CBSSports.com College Hockey Power 10

1. Boston College (6-1-0) -- Last Week: 1
Though they were close games, the Eagles won both tilts last weekend to stretch their winning streak to six. With many of the other top teams losing last weekend, BC is pulling away a bit at this early stage of the season. Johnny Gaudreau continues to put up points, while Parker Milner has been terrific in net.
2. Denver (5-1-0) -- Last Week: 3
The lights went out on DU's explosive offense for one night, getting shut out by St. Cloud last Friday. It was the first time the Pioneers scored less than five goals in a game. Everything returned to normal on Saturday, when DU got revenge with a 6-1 win over SCSU. Twenty-six goals scored in just six games this season is something else.
3. Minnesota (5-2-0) -- Last Week: 2
Minnesota scored 12 goals in its season-opening series against Michigan State. In the five games since, the Gophers have totaled 13. We haven't seen the team that looked so dominant against the Spartans and that, along with a weekend split with Minnesota State, is why Minnesota drops another spot this week.
4. Cornell (3-0-1) -- Last Week: 4
A surprisingly tough series with Colgate might have dropped the Big Red in other weeks, but Cornell is still unbeaten after a win and a tie against the Raiders. Andy Iles is solid in net for the Big Red, and that has been the difference. This team isn't going to score a lot of goals this year but will continually give up fewer.
5. Miami (OH) (5-2-1) -- Last Week: 5
For the second straight weekend, Miami split on the road. A 3-0 shutout at the hands of Ferris State was followed by a 4-2 win. Forwards Austin Czarnik and Riley Barber each have 10 points and are showing no signs of slowing. No other teams made a significant enough push to knock the RedHawks out of the top five.
6. North Dakota (3-2-1) -- Last Week: 6
A hard-fought series with fellow Power 10 team Boston University yielded a respectable result as UND earned a split with the Terriers. There are some concerns about UND's consistency, with its results so far, but we should know a lot more about this club after a weekend series at St. Cloud State.
7. Union (5-1-1) -- Last Week: 10
The Dutchmen have been rolling since an opening-night loss to Merrimack. Union got past a potential trap home-and-home series with rival RPI and did so in style, scoring 11 goals over the weekend. Sophomore Shayne Gostisbehere is tied for the national lead among blueliners with nine points.
8. New Hampshire (5-1-1) -- Last Week: 9
The Wildcats have been one of the pleasant surprises of the season. They haven't just been winning games; they've been winning tough ones. As the season has progressed, the tougher UNH's schedule has looked and the Wildcats have lost just once in seven games. Goaltender Casey DeSmith's numbers just keep getting better, too (1.54 GAA, .947 SV%).
9. Notre Dame (6-2-0) -- Last Week: 8
Another tough opponent for the Irish, and another split -- this time with Western Michigan. The game that Notre Dame won was a 4-0 shutout, with the Irish allowing just 14 shots. This team is known for its big offensive weapons, but coach Jeff Jackson is a sound defensive mind. And when his team executes, it can be stifling.
10. Boston University (4-2-0) -- Last Week: NR
Both of BU's two losses have come to Power 10 teams, and the fact that a team this young is playing this well is notable. Leaving North Dakota with a split is more than respectable, but the Terriers' toughest test to date comes Sunday against rival Boston College.
Dropped Out: University of Michigan (3-3-1)
On the Cusp: Western Michigan (4-2-0), St. Lawrence (5-1-0), St. Cloud State (5-3-0), University of Michigan (3-3-1), Harvard University (2-1-0)