NHL lockout: Your daily hockey fix for day 55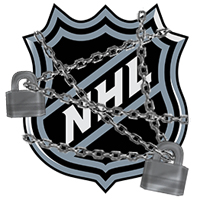 This is Day 55 of the NHL lockout, 2012 edition. Every day, we'll serve up some CBA talk and help you get your hockey fix. Let's begin, shall we?
CBA roundup

• Welcome to day 55 of the NHL lockout. Are you as excited as you were 54 days ago when all of the fun started? No? Good. The games-missed tracker remains stuck at 326 plus the Winter Classic. Hopefully it stays there.
• Friday is the biggest day of negotiations yet, mainly because it's the next day of negotiations. They're all big. ESPN's Pierre LeBrun has a nice look at where the two sides are now, and explains how Thursday was mildly positive because the talks didn't result in a complete meltdown. Yes. The talks not melting down is a positive at this point. [ESPN]
• According to Doug MacLean, the NHL board of governors received a memo Thursday saying talks would break down if the two sides didn't gain any traction. Obviously, the talks are still continuing (at least for one more day). [Twitter]
• The two sides were tight-lipped following Thursday's talks. Gary Bettman: "I am not going to discuss the negotiations or the substance of what we're talking about. I really don't think that would be helpful to the process."
And Donald Fehr: "I am not going to comment on the substance of the discussions."
That was a far cry from their earlier press conferences in this mess when Fehr gave history lessons on every NHL lockout in the past and how they did things when he was running Major League Basaeball.
• The Bruins are cautiously optimistic something can be completed. [Boston Herald]
Hockey fix
Brett Hull had a pretty awesome shot. Don't believe me? See for yourself:
For more hockey news, rumors and analysis, follow @EyeOnHockey and @agretz on Twitter and like us on Facebook.