CBSSports.com College Hockey Power 10, Week 6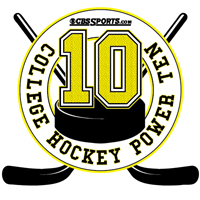 Every week here at Eye on Hockey, we'll provide the CBSSports.com College Hockey Power 10, highlighting the top teams across college hockey. And with the NHL locked out, what else are you going to watch to get your hockey fix?
The CBSSports.com College Hockey Power 10 is a collaboration between Eye on Hockey blogger Chris Peters and CBS Sports Network Hockey analyst Dave Starman.
When it comes to the Power 10, and this is becoming a recurring theme, there seems to be a distinct top two teams -- Boston College and Denver -- and then a distinct drop off. The perceived top teams in college hockey can't seem to keep it together, and that has opened the door for more movement this week.
There are several worthy teams right on the doorstep of the Power 10, including Dartmouth, the nation's last remaining unbeaten team. A team that was picked to finish 10th in its own conference by league media in the preseason is the only team that hasn't been saddled with a loss. That's pretty remarkable. That's college hockey.
Lucky for you, there's a full slate of notable games on TV this week to actively follow the chaos, including the first game of the season on CBS Sports Network on Thursday night. Be sure to check out the preview of that tilt between Notre Dame and Michigan right here on Eye on Hockey.
Along with a full slate of college hockey games, the Power 10 will be back on Black Friday next week, as opposed to its usual Thursday spot due to the massive quantities of turkey you'll be consuming (hopefully).
Here's where you can find college hockey this week:
Friday, Nov. 16
Merrimack at Boston College -- 7 p.m.
Saturday, Nov. 17
Northern Michigan at Ohio State -- 7:05 p.m.
Sunday, Nov. 18
New Hampshire at Boston University -- 1 p.m.
This week's College Hockey TV Schedule (all times ET):
Thursday, Nov. 15
Notre Dame at Michigan -- 7:30 p.m. (CBS Sports Network)
Friday, Nov. 16
Harvard at Cornell -- 7:30 p.m. (NBC Sports Network)
Minnesota Duluth at North Dakota -- 8:30 p.m. (Fox College Sports Central)
Wisconsin at Minnesota -- 9 p.m. (Fox College Sports Pacific)
Saturday, Nov. 17
Minnesota Duluth at North Dakota -- 8 p.m. (Fox College Sports Central)
Wisconsin at Minnesota -- 9 p.m. (Big Ten Network)
CBSSports.com College Hockey Power 10

1. Boston College (8-1-0) – Last Week: 1
Just in case there was any doubt, Boston College made sure to assert itself in a pair of games against a pair of Power 10 foes last weekend. The Eagles downed Notre Dame 3-1 on Friday, then disposed of rival Boston University 4-2. This team just seems to keep getting better.
2. Denver (7-1-0) – Last Week: 2
The games were close, but DU proved itself on the road with a series sweep against Minnesota State. The Pioneers improved to 5-1-0 in WCHA play and now look ahead to the Gold Pan series opener against archrival Colorado College. Big test.
3. Minnesota (6-2-1) – Last Week: 3
A win and a tie at Alaska Anchorage is a solid result, as the road trip to Alaska tends to claim many a Saturday night victim. It's a positive step, but the Gophers haven't been able to string two wins together over one weekend since its opening-week sweep of Michigan State.
4. Miami (6-2-2) – Last Week: 5
Like Minnesota, the RedHawks are having trouble grabbing a pair of Ws over one weekend, though they did collect a shootout win Saturday, which counts only in the CCHA standings. Miami boasts the nation's leading scorer among freshman in Riley Barber, who has 14 points.
5. North Dakota (4-3-1) – Last Week: 6
UND moves up a spot, but only because of losses by other top teams. North Dakota has been underachieving this season, particularly on Saturdays -- when it has gone 0-3-1. That has to change if this team is to remain among the elites and soon.
6. New Hampshire (6-1-1) – Last Week: 8
After back-to-back shutouts from Casey DeSmith last weekend, the Wildcats took another big step forward. It seems we mention him every week, but that's how good DeSmith has been. He has ridden three shutouts to a 1.33 goals-against average and .953 save percentage.
7. Notre Dame (6-3-0) – Last Week: 9
The Irish put up a good fight but fell victim to red-hot Boston College Friday. Anders Lee has remained an offensive force for Notre Dame, but T.J. Tynan has yet to really get going. That could change as early as this week as the Irish meet Michigan for an important CCHA series.
8. Cornell (3-2-1) – Last Week:4
Cornell is winless in its last three and in real danger of falling off the Power 10 next week without showing some more consistency against Harvard and Dartmouth over the weekend. This team has to find its goal-scoring touch if it hopes to be a title contender in the improved ECAC this year.
9. Union (6-2-1) – Last Week: 7
When Union is firing on all cylinders, it is a tough team to beat. The Dutchmen rolled over Harvard last Friday, 6-2 but didn't save enough goals to get past streaking Dartmouth on Saturday. Union is idle this weekend.
10. Western Michigan (4-2-0) – Last Week: NR
Head coach Andy Murray seems to have the Broncos headed in the right direction. A sound defensive team, WMU needs to find a way to put up more goals to remain among the Power 10. There's no go-to scorer; that's fine in November, but might not cut it come March. Still a sound group.
Dropped Out: Boston University (5-3-0)
On the Cusp: Dartmouth (5-0-1), Boston University (5-3-0), Colorado College (7-3-0), Michigan (4-4-1), St. Cloud State (6-4-0)