NHL lockout: The league's challenge with advertisers growing with lockout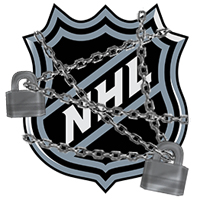 To paraphrase the great Yogurt from Spaceballs: Advertising, advertising, advertising; where the real money from the sport is made.
That might not be completely accurate when you're talking hockey -- have you actually seen the commercials on the NHL Network? -- but the advertising bucks go a long way, both for the league and the teams. There's a reason why rinks across the league are tattooed with sponsors, and it isn't to add aesthetic flair.
But now the sport is two-and-a-half months into its third lockout in a span of 18 years. That kind of instability can hurt your business partners. After all, who wants to pay to advertise for a diminishing brand that isn't actually getting the air time it should be?
We already have seen Kraft reallocate some of its money for its Hockeyville festivities because of the lack of a collective bargaining agreeement. Molson beers has blamed the lockout for diminished sales in Canada (that makes total sense; nothing goes with a hockey game better than beer, right Leafs fans?)
The big question is how will the lockout affect sponsors down the line, not only the ones the NHL and its teams have onboard already but the fish they would like to catch in the future? Chris Botta and Terry Lefton of the Sports Business Journal did some digging.
"If I was a company being courted by the NHL today, or if I was advising a company being courted, I would be concerned," said Michael Neuman, the managing partner at Scout Sports and Entertainment, the agency for Geico, which has league sponsorship rights, and around 20 complementary NHL team deals. "The current commissioner [Gary Bettman, commissioner since 1993] has three work stoppages under his belt."
It's easier for the big, long-standing partners of the NHL to hang tough. They know what they are getting into with the NHL, more or less. It's the companies that are newer to advertising in hockey, as Neuman alluded to, that are the interesting cases.
"New sponsors are going to be the slowest thing to get back," said [Genesco Sports Enterprises CEO John] Tatum. "They had so much momentum with last season's playoffs and all the postseason games on national TV for the first time [on NBC and NBC Sports Network]. Fans will come back, but you have to reclaim some portion of their media consumption, because that has changed. I'm also concerned about the franchises that were struggling before the lockout."
Early in this lockout, there were many -- myself included -- who theorized there wouldn't be any serious pressure on the NHL until the sponsors started squeaking like a wheel in need of grease. Perhaps we were wrong, as the sponsors are starting to send messages to the league and still we're stuck in a spot where no deal appears to be forthcoming.
The term "brand suicide" has been floated in this lockout, and it's tough to say it's not an appropriate term for what the NHL is doing right now. If you're an advertiser, do you really want to sign up with a brand whose fans are becoming increasingly apathetic because of a lockout every six seasons? I wouldn't, even if it is a cheaper alternative than the other sports.
It is proposed in the SBJ story by another advertising exec that it can actually be easier to sell the game after a lockout because you can try to excite potential sponsors on the promise of a new game. That might have been the case after the 2004-05 lockout, but what's really going to be different this time around? Following the last lockout, the NHL introduced a bunch of new rules that did make the game -- different. As far as we know, nothing major is being proposed this time around.
Further, these are smart people with loads of money they are looking to use as an investment -- and that's exactly what it is, an investment. They know the NHL has a recurring theme here that isn't good, and they must know there is a growing backlash from twice- or thrice-spurned fans against the sport. There will still be fans, but not as many.
If only the answer to the lockout were as easy as "1, 2, 3, 4, 5" then we could have everything, including the advertisers, back in order and the game would be healthy.
For more hockey news, rumors and analysis, follow @EyeOnHockey and @StubitsCBS on Twitter and like us on Facebook.