NHL lockout: Canucks goalie, NHLPA rep Cory Schneider to play in Switzerland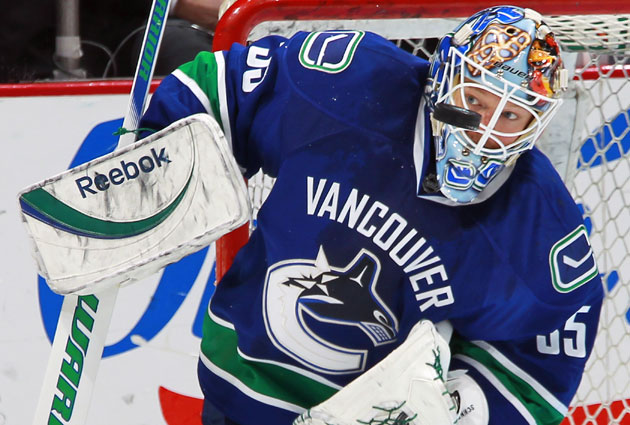 Schneider's contract is through Dec. 31 and has the option for renewal. (Getty Images)
The list of players going overseas to play as the NHL lockout drags on keeps getting longer and longer. The latest to join in the fun is Vancouver Canucks goaltender Cory Schneider, who will play for Ambri Piotta in the Swiss league.
Schneider, who comes from the Boston area, is actually a dual citizen with both American citizenship rights and Swiss. As a result, he won't be charged against the foreign-exemption rule in the Swiss league; he's just a really strong free-agent pickup, more or less.
According to the Ambri Piotta release -- as always, translated by Google -- Schneider's contract is going to be treated like most NHLers abroad, on a month-by-month basis.
His contract is extended, initially until 31 December 2012, after which the Company may exercise the option in his favor for the renewal until the end of the season. Obviously, the length of the contract is closely related to the evolution of the negotiations in North America to end the lockout period.
It was just Monday that Schneider talked to the Vancouver Sun about exploring his overseas options, and apparently this one was right up his alley.
"I play hockey for a living," he said. "At some point, I really want to play hockey, whether it's here or abroad. I think it's more important for my career going forward to stay sharp and stay prepared and get games in because 18 months without game action is not a good thing for a goalie, or for anybody for that matter."
Schneider is one of the more interesting names we've seen making the plunge to play overseas. Why? Because Schneider is one of the more active members of the NHLPA, he's on the negotiating committee so if he's going to Switzerland then it doesn't paint a particular sunny forecast for the upcoming labor negotiations, now does it?
It's also interesting in the regard that not many NHL goaltenders have found jobs during this lockout, the "market" hasn't been as open for the netminders as it has been for the skaters. But when have a chance at a player of Schneider's caliber -- with Swiss citizenship to boot -- you take it.
Schneider split time with Roberto Luongo in net last season with the Canucks but usurped Luongo as the starter by the time the postseason began. It led to Luongo telling the Canucks he would waive his no-trade clause if they asked, something the Canucks have been looking into to clear the way for Schneider to be the unquestioned No. 1.
Last season Schneider had a 1.96 goals against average and a .937 save percentage -- both eye-popping numbers -- in 33 appearances, showing he's ready for the full-time gig.
For more hockey news, rumors and analysis, follow @EyeOnHockey and @StubitsCBS on Twitter and like us on Facebook.