CBSSports.com College Hockey Power 10: Week 8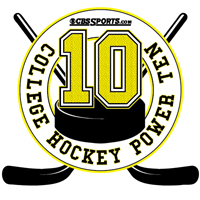 Every week here at Eye on Hockey, we'll provide the CBSSports.com College Hockey Power 10, highlighting the top teams across college hockey. And with the NHL locked out, what else are you going to watch to get your hockey fix?
The CBSSports.com College Hockey Power 10 is a collaboration between Eye on Hockey blogger Chris Peters and CBS Sports Network Hockey analyst Dave Starman.
Another weekend of a top team faltering was the big highlight of the post-Thanksgiving battles. This time it was the Denver Pioneers, riding a 9-1 record into a home weekend against a pair of nonconference opponents and coming out the other end at 9-3.
With the exception of Boston College, the No. 1 team for the past five weeks, it's been tough to stay in the top two on the Power 10 this season. This week, it will be UNH getting a crack at it. The Wildcats came out of last weekend with a win and a tie, including knocking off Denver in a thrilling comeback. The tough road win allowed UNH to leapfrog two spots to No. 2.
The rest of the Power 10 doesn't look a whole lot different with the exception of Boston University's return after a two-week absence as the young Terriers continue to impress in the face of the nation's strongest schedule to date.
This should be a great weekend for college hockey fans as there is a multitude of games on national TV this week including one on CBS Sports Network.
Friday on CBS Sports Network -- Vermont at Maine -- 8 p.m. ET
Friday night, CBS Sports Network's college hockey coverage continues with a Hockey East tilt between Vermont and Maine. It's been a rough year for the two proud hockey programs, but it's early, which makes this an important game for both squads. One or the other might be able to use it to springboard it for some momentum.
Maine has just one win on the season after having lost the vast majority of its scoring from last year's team that made the NCAA tournament. Senior Joey Diamond, who had 47 points last year, has struggled to produce this season, but a bright spot has been Dallas Stars second-rounder Devin Shore, who leads the team with six points.
Vermont has a pair of wins this season and played No. 3 Minnesota fairly tough despite getting swept. The Catamounts have gotten some consistent production out of junior Chris McCarthy and solid play from sophomore transfer Jacob Fallon. Chicago Blackhawks pick Michael Paliotta has been a bright spot on the Vermont blue line, providing great size and some offensive capabilities.
Eric Frede and Dave Starman have the call from Alfond Arena, one of the great venues in college hockey, so be sure to check this one out Friday night.
Friday, Nov. 30
Northeastern at UMass -- 7 p.m.
Arizona State (ACHA) at Penn State -- 7:30 p.m.
Saturday, Dec. 1
Ohio State at Michigan State -- 6:05 p.m.
Merrimack at Providence -- 7 p.m.
Arizona State (ACHA) at Penn State -- 7:30 p.m.
This week's College Hockey TV Schedule (all times ET):
Friday, Nov. 30
Boston College at Boston University -- 7:30 p.m. (NBC Sports Network)
UMass-Lowell at New Hampshire -- 7:30 p.m. (Fox College Sports)
Vermont at Maine -- 8 p.m. (CBS Sports Network)
Ohio State at Michigan State -- 8 p.m. (Big Ten Network)
Nebraska-Omaha at Minnesota -- 8 p.m. (Fox College Sports)
Wisconsin at Denver -- 10 p.m. (NBC Sports Network)
Saturday, Dec. 1
Boston University at Boston College -- 7:30 p.m. (NBC Sports Network)
Nebraska-Omaha at Minnesota -- 8 p.m. (Fox College Sports)
Wednesday, Dec. 5
Vermont at Dartmouth -- 7 p.m. (NBC Sports Network)
Hope you've made some space on your DVR. Now onto the Power 10.
CBSSports.com College Hockey Power 10

1. Boston College (10-1-0) -- Last Week: 1
Behind a five-point effort from Johnny Gaudreau, BC rolled past Dartmouth and ran its national-best winning streak to 10. A home-and-home series with rival BU should provide the Eagles' toughest test to date. It should be a thrilling series.
2. New Hampshire (9-1-2) -- Last Week: 4
The Wildcats' wild weekend in Colorado must have been a whirlwind. After surrendering a four-goal lead Friday in a tie against Colorado College, UNH came back from deficits of 3-0 and 4-1, to beat Denver, 6-3. Kevin Goumas put up seven points over the weekend and now has 20 total.
3. Minnesota (9-2-2) -- Last Week: 3
The Gophers earned a solid road sweep at Vermont last weekend, outscoring the Catamounts 8-2 over the two games. Minnesota is now unbeaten in its last six and appears to picking up steam. Junior Erik Haula has been a bright spot with a team-best 16 points.
4. Denver (9-3-0) -- Last Week: 2
An overtime loss to Yale and the collapse against UNH could have dropped Denver a lot lower, but the Pioneers' body of work is still very solid and that offense is as good as any team's. They'll have to prove last weekend was an aberration with a home series against scuffling Wisconsin.
5. Miami (7-2-3) -- Last Week: 6
After an idle weekend, Miami is on the road for the always tough trip to Fairbanks to meet the University of Alaska. Unbeaten in their last five, the RedHawks' offense has cooled a bit, but the dynamic duo of Riley Barber (15 points) and Austin Czarnik (14) are still producing at a high clip for Miami.
6. Notre Dame (9-4-0) -- Last Week: 5
The Irish earned a home split against North Dakota, which is a solid result. That said, Notre Dame's offense continues to struggle finding consistency, which has cost it some games this year. Junior Anders Lee continues to shine, however, with 13 points to lead the Irish.
7. North Dakota (6-4-2) -- Last Week: 7
North Dakota's Saturday struggles continue, which could eventually become a problem if it's not corrected. All four of its losses have come in the second game of a series. Even so, earning a road win at Notre Dame is pretty big. Senior Danny Kristo has paced UND with 14 points in 10 games.
8. Union (8-2-1) -- Last Week: 8
Grabbing a pair of home wins against a pesky squad from Penn State is a nice way to get back on track for the Dutchmen after a loss to Dartmouth. Union is unbeaten in eight of its last 10 games. Junior goaltender Troy Grosenick is back from injury, so that should also provide a huge boost.
9. Western Michigan (6-3-1) -- Last Week: 9
Coming out of an off-weekend, the Broncos have a tough home series against CCHA foe Northern Michigan. Western's anemic offense has a good chance to get a jolt as NMU is averaging three goals allowed per game.
10. Boston University (7-4-0) -- Last Week: NR
Despite relative youth, BU has been able to put together a solid season. All four of its losses have come against highly-ranked teams, which is indicative of just how tough their schedule has been. It won't get any easier this weekend against Boston College.
Dropped Out: St. Cloud State (7-5-0)
On the Cusp: Yale (5-2-1), Dartmouth (5-2-2), Nebraska Omaha (8-3-1), Quinnipiac (8-3-2). St. Cloud State (7-5-0)