NHLPA seeks to have lawsuit over Derek Boogaard's death dismissed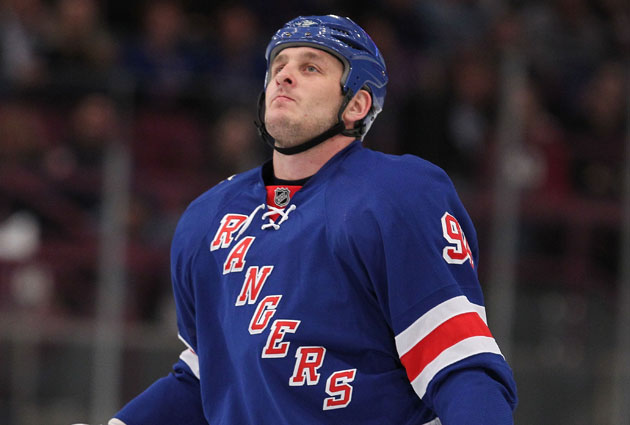 Boogaard's death was ruled an accidental overdose. (Getty Images)
The family of the late Derek Boogaard filed a lawsuit against the NHLPA claiming the union failed to pursue potential financial claims from the NHL for Boogaard's remaining contract with the New York Rangers. Now the NHLPA is arguing for the case to be thrown out.
The suit, filed in California, seeks the $4.8 million still owed to Boogaard due to his contract and an additional $5 million for punitive damages. Instead of going after the NHL and the team, they are going after the union because it failed to do so for them and advised the Boogaards they unfortunately didn't have a case.
The NHLPA's response? The suit was filed too late and for that reason it shouldn't be held up in court. From the Ottawa Citizen:
"No party disputes that the death of Derek Boogaard was a tragedy," reads a memorandum filed with a California court Monday. "That tragedy, however, does not suspend the requirements of timeliness, jurisdiction, and the laws that govern labour organizations like the NHLPA and union counsel like Stoykewych, all of which mandate dismissal of the First Amended Complaint."
Understanding the nature of statutes of limitations, it just feels awful if the case were to be thrown out on what more or less amounts to a technicality.
Even if the case does get thrown out based on the tardiness of the lawsuit, the Boogaards will still receive some money. The NHLPA pointed out teams have life-insurance benefits and the Boogaards have received money from that.
Boogaard, an enforcer for the Minnesota Wild and then the New York Rangers, was found dead on May 13, 2011. His death was ruled to be an accidental overdose, a mixture of alcohol and oxycodone toxicity.
For more hockey news, rumors and analysis, follow @EyeOnHockey and @StubitsCBS on Twitter and like us on Facebook.