CBSSports.com College Hockey Power 10: Week 9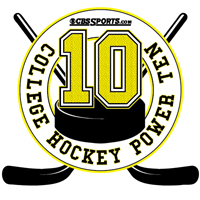 Every week here at Eye on Hockey, we'll provide the CBSSports.com College Hockey Power 10, highlighting the top teams across college hockey. And with the NHL locked out, what else are you going to watch to get your hockey fix?
The CBSSports.com College Hockey Power 10 is a collaboration between Eye on Hockey blogger Chris Peters and CBS Sports Network Hockey analyst Dave Starman.
'Tis the season for excellent college hockey. With more games on TV in the coming weeks and plenty of terrific matchups on the December docket, this season just gets better and better for fans.
Though the national polls have a new No. 1, the Power 10 does not. The UNH Wildcats continue to impress and are the nation's only one-loss team, but Boston College's loss on Friday to Boston University was not enough to knock the Eagles from the top spot this week. To date, the Eagles have played the nation's second-toughest schedule according to the KRACH rankings, which proved to be a big part of the tie-breaker in the decision process.
Meanwhile, the top-five is shaking up with Miami and Notre Dame charging into the No. 3 and 4 spots, respectively, while Minnesota slides to No. 5 -- its lowest position on the Power 10 to date.
Denver's starting to head in the wrong direction as well as it has gone from second to fourth to seventh on the Power 10 over the last three weeks after a four-game winless streak. There's a big debut, however, as the Quinnipiac Bobcats crack the Power 10 for the first time, thanks to its quiet 10-win season to date.
As the angst and tension surrounding the NHL lockout appears to be reaching its apex, this might be a good weekend to decompress and watch some actual hockey games. There will be plenty of opportunities Friday and Saturday, including on CBS Sports Network. Let's have a look, shall we?
Saturday on CBS Sports Network -- Maine at Boston University -- 8 p.m. ET
Coming off a big split with Boston College, Boston University is looking like a determined hockey team. The Terriers have five losses, but four of those have come against either BC or New Hampshire, the two best teams in the country. Meanwhile, Maine is simply scuffling. Mired in one of its worst starts in program history, the Black Bears have just two wins to their name this year.
The Terriers have a young squad, but it's one of the most exciting groups in college hockey. Freshmen Matt Grzelcyk on defense and center Danny O'Regan have been real bright spots, while sophomore Cason Hohmann is leading the team with 15 points. Senior Wade Megan, a 20-goal man last year, already has eight tallies this season to pace BU. In net, it's been a freshman duo of Matt O'Connor and Sean Maguire who have surpassed expectations this season.
For Maine, freshman Devin Shore has been one of the few bright spots for this team. He leads the Black Bears with a mere eight points including seven assists. Martin Oullette has put up decent numbers in net, but hasn't gotten much scoring support. Maine lost four of its top five scorers last season to graduation or pro contracts and there hasn't been anyone to fill the void.
This is an important Hockey East tilt for the Terriers, who have quite a gap to close between BC and UNH, so taking the Black Bears too lightly would be a mistake. Maine will hope to turn the corner and there would be no better way than to get a road win against a top-ranked team. Expect a spirited match-up between these two proud programs.
Friday
Colgate at UMass -- 7 p.m.
Robert Morris at Ohio State -- 7:05 p.m.
Michigan Tech at Wisconsin -- 8 p.m.
Saturday
Michigan State at Notre Dame -- 6:50 p.m.
Michigan Tech at Wisconsin -- 8 p.m.
This week's College Hockey TV Schedule (all times ET):
Friday
Michigan State at Notre Dame –- 7:30 (NBC Sports Network)
Harvard at Merrimack -– 7:30 p.m. (Fox College Sports Atlantic)
Princeton at Quinnipiac –- 7:30 p.m. (NESN)
Michigan Tech at Wisconsin -– 8 p.m. (Fox College Sports Pacific)
Denver at North Dakota -– 8:30 p.m. (Fox College Sports Central)
Minnesota at Colorado College –- 10 p.m. (Fox College Sports Atlantic)
Saturday
Maine at Boston University -- 8 p.m. (CBS Sports Network)
Michigan Tech at Wisconsin -- 8 p.m. (Fox College Sports Pacific)
Denver at North Dakota -- 8 p.m. (Fox College Sports Central)
Minnesota at Colorado College -- 9 p.m. (Fox College Sports Atlantic)
CBSSports.com College Hockey Power 10

1. Boston College (11-2-0) -- Last Week: 1
So the 10-game win streak was snapped. Despite that, it doesn't change much. Top to bottom, BC is one of the most complete teams in the country and proved it with a 5-2 bounceback win the next night against BU. This veteran-laden team is going to be tough all year.
2. New Hampshire (11-1-2) -- Last Week: 2
With a convincing sweep over UMass-Lowell last weekend, the Wildcats stretched their unbeaten streak to eight. Junior Kevin Goumas has ascended to second in the country with 23 points and Casey DeSmith continues to shine with a .943 save percentage.
3. Miami (9-2-3) -- Last Week: 5
Unbeaten in their last seven, the RedHawks have been red hot and appear to be heating up after a nine-goal outburst at Alaska last weekend. Miami's top line has been near unstoppable, and the scoring depth on this team is really beginning to emerge, which is bad news for opponents.
4. Notre Dame (11-4-0) -- Last Week: 6
With five wins in their last six games, the Irish have been picking up the scoring pace. With 14 goals in its last three, it appears Notre Dame's offensive inconsistency might be a thing of the past. Anders Lee has been dominant this season, leading Notre Dame with 10 goals this year.
5. Minnesota (10-3-2) -- Last Week: 3
Minnesota's tough home loss to a very good Nebraska Omaha squad was another one of those head-scratchers where the offense went south. The Gophers bounced back the next night, but might have their hands full with Colorado College on the road. It will be a big WCHA series for Minnesota.
6. Boston University (8-5-0) -- Last Week: 10
The Terriers made the biggest leap in the rankings thanks to that sound win over BC on Friday. Of its five losses, four have come against BC or UNH. BU's youth hasn't been a problem in the least, but senior Wade Megan continues to be a consistent offensive presence. Don't miss this exciting squad on CBS Sports Network on Saturday.
7. Denver (9-4-1) -- Last Week: 4
Though still atop the WCHA standings, the Pioneers have been backsliding. Winless in its last four after sweeping Colorado College, the last two weekends have been puzzling. This weekend's series at North Dakota is going to be a tough way to try to get back on track, too.
8. Western Michigan (8-3-1) -- Last Week: 9
Last weekend, the Broncos earned a solid home sweep of Northern Michigan, including a hard-fought 1-0 win Saturday. WMU's defensive corps might be one of the best in the country and having Frank "The Big" Slubowski in net doesn't hurt either. This is a tough team to score against.
9. North Dakota (7-5-2) -- Last Week: 7
North Dakota has been one of the more confusing teams this year. There are nights UND looks elite and others where it's simply average. After a split at Colorado College, this weekend's home series against Denver is crucial if UND wants to break from the middle of the pack.
10. Quinnipiac (10-3-2) -- Last Week: NR
This summer Quinnipiac nearly lost head coach Rand Pecknold to UMass. Bet they're glad he stayed. With signature wins over Ohio State, Providence, Union and Cornell, the Bobcats are for real. Quinnipiac will put its perfect ECAC record on the line against Princeton this weekend.
Dropped Out: Union (8-3-2)
On the Cusp: Nebraska Omaha (9-4-1), Union (8-3-2), Yale (6-2-1), Dartmouth (7-2-2), Cornell (6-3-2)