NHL lockout: NHL proposes draft lottery for all non-playoff teams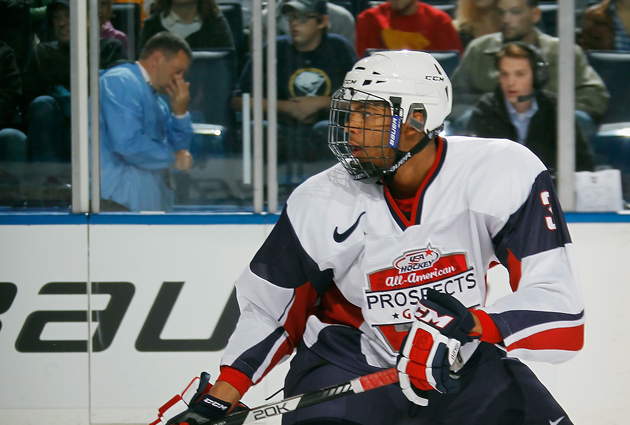 The NHL's latest proposal would open up the top pick in the draft to all non-playoff teams. (Getty Images)
Details of the NHL's latest offer surfaced Friday (Pierre LeBrun has them) and one of the more interesting aspects is a potential change to the draft lottery process that would give all non-playoff teams the opportunity to pick first.
It would obviously be weighted so the worst teams would still have the best opportunity to earn the top pick, but under the latest proposal it would be a system closely resembling the one used by the NBA in recent years.
(Based on the results of the past three years, that's probably not the news the Edmonton Oilers wanted to hear, seeing as how they've picked first every year since 2010. It's not like they need any extra competition for that yearly event.)
Under the old NHL draft lottery system the "winning" team could only move up four spots in the draft (all other teams would only move down one spot), which meant that only the five worst teams in the league had an opportunity to pick first, leaving nine non-playoff teams with no shot at the best prospect in a given year.
The worst team has had a 48 percent chance of winning the top pick.
To use the NBA's draft lottery as an example of how a new system could work in the NHL, the worst team has a 25 percent chance of winning the top pick. After that it drops down to 19.9 percent for the second-worst team, 15.6 for the third, 11.9 for the fourth, and then under 10 percent for the remaining teams.
The four "best" teams in the lottery each have worse than a 1 percent chance of winning the top pick.
So it would be an extreme long shot, but it would in theory be possible for a team like the 2011-12 Calgary Flames to have won the opportunity to select Nail Yakupov under such a system.
The NHL draft lottery in its current form has been in place since 1993, and the rumor has always been that it was put in place after the Ottawa Senators were accused of tanking the previous season in order to draft Alexandre Daigle. Though, it certainly wouldn't have been the first time that might have happened in the NHL.
For more hockey news, rumors and analysis, follow @EyeOnHockey and @agretz on Twitter and like us on Facebook.