NHL lockout: Informal CBA session ends, formal talks resume Monday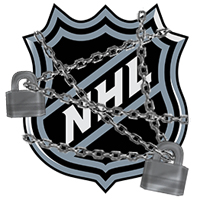 For the first time in a couple of weeks, representatives from the NHL and NHLPA met each other in face-to-face meetings on Sunday, even if they weren't formal negotiations.
Instead of the traditional bargaining sessions that we're used to seeing, the two sides had legal reps stand in and presumably further clarify some of the finer points of the new CBA proposal in what could best be described as an informational session. From NHL.com:
Representatives from the National Hockey League and National Hockey League Players' Association began face-to-face meetings Sunday morning at the League's office for discussions about establishing a new Collective Bargaining Agreement.

Union representatives arrived at approximately 9:30 a.m. ET to continue the information-exchanging sessions the two sides began in a conference-call setting Saturday.
"Last two days were informational," Deputy Commissioner Bill Daly said. "No sense of whether we are as close as Don has suggested. I guess we will find out tomorrow."
The meeting ended sometime just after noon ET with no word on when the sides could meet again and perhaps have the first formal negotiating session in weeks, but it won't be long. It was decided on Sunday night that face-to-face meetings will resume on Monday.
There will be no bargaining session tonight. Two sides hope to get together in the morning.

— Darren Dreger (@DarrenDreger) December 30, 2012
Talks had gone quiet after breaking down a few weeks ago in dramatic fashion, and it didn't seem they were going to pick up anytime soon. That was until the NHL tabled a new proposal to the players late last week, one that moves a couple of steps closer to the players in this ongoing battle.
After previously stating that the NHL offer wouldn't get any better and the five-year contract cap was going to be the hill the NHL would die on, the league improved it in the eyes of the players by increasing the cap limit to six years (seven for players who re-sign) and increasing the variance in year-to-year salaries from 5 percent to 10 percent and a one-time compliance buyout that would come from the players' share of the pot.
You can see the full list of highlights from the proposal here from TSN.
The NHL has yet to set a date in stone for the season to be called off, but commissioner Gary Bettman has insinuated that a 48-game schedule is mandatory for a season and assistant commissioner Bill Daly said recently that the drop-dead date would be sometime in mid-January. Being only a couple of weeks from that, expect the talks to remain open as we're hitting crunch time.
For more hockey news, rumors and analysis, follow @EyeOnHockey and @StubitsCBS on Twitter and like us on Facebook.