NHL lockout: Talks continue, NHLPA still quiet on disclaimer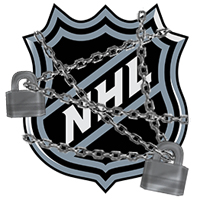 The NHL and NHLPA continued to meet on Wednesday in a marathon bargaining session that extended well past midnight.
Union leader Donald Fehr said that the two sides continued to move closer on some issues but that there is still a ways to go before a new CBA can be reached. He also confirmed that Wednesday's talks included a federal mediator.
The two sides will continue to meet on Thursday morning starting at 10 a.m. ET.
The other big story on Wednesday was whether or not the NHLPA would officially file a disclaimer of interest before the 11:59 p.m. ET deadline. Fehr would not confirm whether or not that paperwork was filed, but Renaud Lavoie of RDS reports that the NHLPA did not file the disclaimer.
Commissioner Gary Bettman said during his press conference early Thursday morning that the league had not been notified of a filing (and they would have been notified had the NHLPA actually done it). He also added that the disclaimer was never mentioned by the NHLPA during the nearly five-hour session.
Filing the disclaimer of interest would have basically disolved the union and allowed the players to file antitrust lawsuits against the NHL. It was believed that if progress was being made the NHLPA would not go in that direction.
In December the players voted by an overwhelming margin to give NHLPA leadership the right to file the disclaimer on their behalf. Just because the NHLPA didn't file on Wednesday doesn't mean it still can't happen at a later date if it feels a deal isn't close or within striking distance.
One of the biggest issues on the table right now is player pension. Bettman acknowledged that it's a very complicated issue and that he hopes to satisfy the players' needs. The NHLPA also has an issue with the $60 million salary cap the league wants in 2013-14, which would be the second year of the deal.
The NHL lockout, which is entering its 110th day on Thursday, has already resulted in the cancellation of 626 regular season games as well as the NHL Winter Classic in Ann Arbor, Michigan and the All-Star weekend in Columbus, Ohio.
The league is hoping to start a 48-game season on Jan. 19 with an intraconference schedule.
It was reported on Wednesday night that the schedule could involve teams playing seven games against the other teams in their division and a home-and-home series against the remaining teams in their conference.
For more hockey news, rumors and analysis, follow @EyeOnHockey and @agretz on Twitter and like us on Facebook.