CBSSports.com College Hockey Power 10: Week 11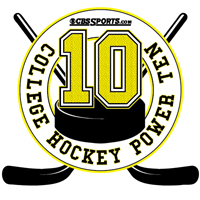 Every week here at Eye on Hockey, we'll provide the CBSSports.com College Hockey Power 10, highlighting the top teams across college hockey. And with the NHL locked out, what else are you going to watch to get your hockey fix?
The CBSSports.com College Hockey Power 10 is a collaboration between Eye on Hockey blogger Chris Peters and CBS Sports Network Hockey analyst Dave Starman.
The New Year is here and so returns the Power 10, coming out of college hockey's brief holiday break. Last week's holiday tournaments played an important role in setting the tone for the rest of the college season with some surprising non-conference results.
With the shakeup coming out of the holiday tourneys, the Power 10 has a new No. 1. Minnesota returned to the top spot this week after its drubbing of former No. 1 Boston College at the Mariucci Classic in Minnesota. The Eagles only got bumped one spot on the Power 10, but the trouncing kicked up BC's armor a bit.
The second half is officially underway, meaning a lot more tight conference match-ups and the postseason push is not too far away. CBS Sports Network has a pair of conference tilts coming up this weekend.
Friday on CBS Sports Network – Robert Morris at Army – 7:30 p.m. ET
Perhaps we're biased, but one of the great things about CBS Sports Network's college hockey schedule this season is that it is comprehensive in its reach across the NCAA. Friday, a pair of Atlantic Hockey conference foes will get the national showcase when the Robert Morris Colonials travel to West Point for a date with Army.
The Colonials are coming in red hot with a 9-4-2 overall record and currently running a seven-game unbeaten streak. Most recently RMU shut out Penn State and Miami University in back-to-back games to claim the Three Rivers Classic at the Consol Energy Center in Pittsburgh. The Colonials have been great outside of their conference, but only mediocre within with a 4-3-1 record to date.
Army on the other hand is off to a solid start within the conference. All six of the Black Knights' wins have come within Atlantic Hockey, which has them in a three-way tie for second place with Mercyhurst and Holy Cross.
Friday night's tilt is a big one for both teams as Robert Morris looks to seize the momentum gained from its big win in Pittsburgh, while Army looks to keep pace on its climb up the AHA standings.
Saturday on CBS Sports Network – Merrimack at Vermont – 7:30 p.m. ET
In a match-up of Hockey East foes, this Saturday night tilt is important for both clubs. With both teams firmly in the middle of the pack in Hockey East, this will be a key midseason match-up to jockey for better postseason positioning within the conference. These are the types of games both clubs have to find a way to take advantage of and come out with a W in the top-heavy HEA.
These two teams have been scuffling a little bit over the course of the season, but Vermont is starting to turn a corner, unbeaten in six of its last seven games. On the other hand, Merrimack can come in with some confidence considering the Warriors beat and tied the Catamounts in an early-season home series.
Vermont's Gutterson Fieldhouse is the setting for this Hockey East match-up, which usually provides a great college hockey atmosphere both in the rink and on the television screen.
Friday, Jan. 4

Yale at Boston College – 7 p.m.
RPI at Boston University – 7:30 p.m.
Wednesday, Jan. 9
Harvard at Boston University – 7 p.m.
This week's College Hockey TV Schedule (all times ET):
Friday, Jan. 4
Dartmouth at Quinnipiac – 7 p.m. (NESN)
Colorado College at Nebraska-Omaha – 7:30 p.m. (NBC Sports Network)
Robert Morris at Army – 7:30 p.m. (CBS Sports Network)
Cornell at Denver – 9:30 p.m. (Root Sports)
Saturday, Jan. 5
RPI at New Hampshire – 7 p.m. (Fox College Sports)
Merrimack at Vermont – 7:30 p.m. (CBS Sports Network)
Tuesday, Jan. 8
Bowling Green at Michigan – 7:30 p.m. (Big Ten Network)
Notre Dame at Minnesota – 8 p.m. (Fox College Sports)
CBSSports.com College Hockey Power 10

1. Minnesota (13-3-3) – Last Week: 5
After winning the Marriucci Classic in a rousing 8-1 victory over previous No. 1 Boston College, the Gophers are heating up. Unbeaten in their last five, Minnesota is getting consistent production out of junior Erik Haula, who leads the team with 26 points.
2. Boston College (12-3-1) – Last Week: 1
Head coach Jerry York got his record 925th career win, but the Eagles followed that historic night up with the 8-1 clunker against Minnesota. The Eagles will try to get back on track Friday against a very strong outfit from Yale.
3. Notre Dame (14-4-0) – Last Week: 3
The Irish went streaking heading into the holiday break, winning six in a row and eight of their last nine. Junior T.J. Tynan seems to have reclaimed his productive ways, while Anders Lee has been one of the best scorers in the NCAA. Notre Dame has a huge test Tuesday when it goes on the road for a single game against Minnesota.
4. New Hampshire (12-3-2) – Last Week: 2
The Wildcats stumbled in their first game back from the break, falling to Dartmouth at the Ledyard Bank Classic. UNH bounced back with a win over Bemidji State and still has one of the best records in college hockey. Kevin Goumas and Trevor van Riemsdyk remain offensive catalysts.
5. Miami (12-4-4) – Last Week: 6
The RedHawks had a lukewarm performance at the Three Rivers Classic in Pittsburgh. After beating in-state rival Ohio State, Miami was stunned the next night by Robert Morris University, 1-0. Miami was without top point-producer Riley Barber (World Juniors) and have this week off to stew over the poor showing at the Consol Energy Center.
6. Quinnipiac (14-3-2) – Last Week: 8
The wins just keep piling up for college hockey's hottest team. After last week's big non-conference road sweep of Nebraska Omaha, the Bobcats are unbeaten in their last 11 games. They've been getting the job done both in and out of conference and turning more folks into believers. Senior Jeremy Langlois is leading the way with 20 points in 18 games this year.
7. North Dakota (10-5-3) – Last Week: 9
UND is starting to heat up a little bit after going unbeaten in its final five games before the holiday break. With a 7-2-3 WCHA record, North Dakota is tied for second in the conference. With a manageable non-conference home series against Holy Cross, there's a good chance to build some momentum heading into the meat of its WCHA slate.
8. Dartmouth (8-3-2) – Last Week: 10
Getting the better of UNH in the Ledyard Bank Classic was a great way to come back after a three-week layoff, but the Big Green had a let-down the next night against UMass. Dartmouth goes on the road this weekend where it will meet ECAC leader Quinnipiac and Princeton on back-to-back nights. The Quinnipiac game is as big as any Dartmouth has had this season.
9. Boston University (10-6-0) – Last Week: 4
The Terriers traveled all the way to Denver for one game and they got blown out by a 6-0 margin. BU had a depleted roster due to injuries, among other reasons. This young team can't afford to lose anyone else, but it looks like team captain Wade Megan may miss some time with an injury.
10. Western Michigan (11-5-2) – Last Week: 7
The Broncos went into the break on a sour note, getting shut out by Michigan. Coming right out of break, WMU managed to get past Michigan State in a shootout to advance to the Great Lakes Invitational where it ended up getting shut out by Michigan Tech. Offense has been sputtering.
Dropped Out: N/A
On the Cusp: Denver (10-6-3), Minnesota State (12-6-2), Cornell (7-4-2), Union (9-4-4), St. Cloud State (12-8-0)