NHL lockout: Hockey fix for Day 111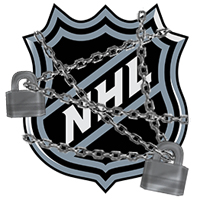 This is Day 111 of the NHL lockout, 2012-13 edition. Every day, we'll serve up some CBA talk and help you get your hockey fix. Let's begin, shall we?
CBA roundup
• At this point, I'm ready for the NHL and NHLPA to just poop or get off the pot. Give me an ending. Either start the games back up or just cancel the season and tell me when you have a deal. This is still so very stupid, and we have at least another week of it coming right at us.
The lockout, now into its 111th day, has cost hockey fans 626 regular-season games, the NHL Winter Classic in Ann Arbor, Mich., and All-Star Weekend in Columbus.
• Gary Lawless of the Winnipeg Free Press reported on Thursday evening that Gary Bettman is prepared to cancel the season next week if a new deal isn't reached or at least close.
While that certainly sounds ominous (and it is), it really isn't anything new. At this point, everybody already knows the NHL isn't interested in playing fewer than 48 games. And for a 48-game schedule to be played and end at a reasonable time in June, the season will need to start around Jan. 20. That means a deal needs to be reached next week. It's also worth pointing out and keeping in mind when reading this report that Lawless has been the only person to score an exclusive one-on-one interview with Bettman during the lockout. [Winnipeg Free Press]
• Pierre LeBrun writes that Thursday's talks went from embarrassing to worse. He opens with a great line that we can all get behind: "The most embarrassing work stoppage in the history of pro sports has found a way once again to show it might also be the most irrational ever of its kind." [ESPN Cross Checks Blog]
• Elliotte Friedman called it a wasted day in the labor talks. [CBC]
• The Globe and Mail's James Mirtle on why the NHL's push for a variance limit on contracts matters. [Globe and Mail]
Hockey fix
Here is NHL legend Bobby Hull.
For more hockey news, rumors and analysis, follow @EyeOnHockey and @agretz on Twitter and like us on Facebook.