Pavel Datsyuk to play in KHL All-Star Game, join Red Wings after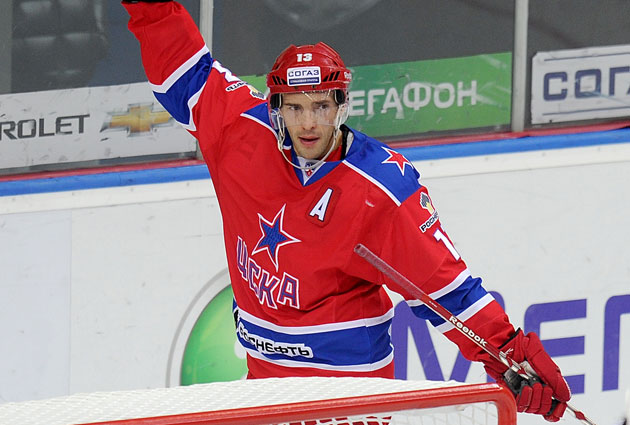 Datsyuk had 11 goals and 25 assists in 31 games for CSKA Moscow. (Getty Images)
In what should come as a comfort to Devils fans who might be worried about Ilya Kovalchuk, he won't be the only NHL player in the KHL All-Star Game.
Detroit Red Wings star Pavel Datsyuk, who spent the lockout with CSKA Moscow, will also be taking part in the All-Star Game slated for this weekend in Russia, the same time training camps are expected to open in the NHL.
So why, exactly, is this good news for the Devils regarding the Kovalchuk situation? Because Datsyuk will be coming to Detroit once the game is done. This will be his way of saying thanks to the fans in the KHL for the past few months.
Datsyuk's agent Gary Greenstin explained the situation to Helene St. James of the Detroit Free-Press.
"Pavel loves Red Wings organization. He make his name in Detroit," Greenstin said today. "He belongs to them, and Detroit belong to him.

"He has permission to play in All-Star Game. He had reservation to fly the 11th; now I believe he will fly the 14th."
It's a little different situation than Kovalchuk's in that Datsyuk appears to have been in communication with his NHL team and has permission. It certainly helps ease any concerns that might or might not be justified like in the Kovalchuk case.
Although Kovalchuk has said some other things such as he wants to see the ratified CBA and he's waiting for the deal to be official, this is likely part of his thinking as well, wanting to play in the All-Star Game. He could just as easily hop on the same flight as Datsyuk and come back to the NHL right away.
It's a pretty cool move By Datsyuk, I'll say that. But if I were him, I think I would have decided to go out on this high note.
For more hockey news, rumors and analysis, follow @EyeOnHockey and @StubitsCBS on Twitter and like us on Facebook.