Tim Thomas to remain on sabbatical, wants to return for 2013-14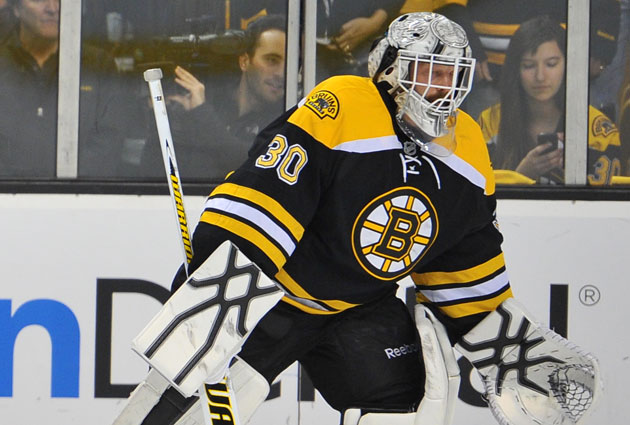 Tim Thomas had a .920 save percentage and 2.36 GAA last season in 59 games. (Getty Images)
Preview: Team-by-team | Picks | 50 things to watch | Top 50 players | All-NHL
Embattled Boston Bruins goaltender Tim Thomas announced last year that he wanted to take some time off and spend it with his family. He's sticking to that plan.
Thomas will not be returning to the Bruins this season, continuing his sabbatical despite the lockout. Some believed that perhaps he would change his mind after getting to spend a few extra months at home, but that won't be the case, as Bruins general manager Peter Chiarelli said on Sunday.
As of 10 a.m. Monday, Tim Thomas will be considered a suspended player. Thomas's $5 million annual hit will count toward the team's cap. Via agent Bill Zito, Thomas informed Chiarelli that he still wants to play in 2013-14. The Bruins can toll Thomas's contract forward one year. It's doubtful the Bruins will welcome Thomas back.
As Fluto Shinzawa writes, that's likely it for Thomas and the Bruins. It was a relationship that went so well for a few years, including a Stanley Cup title in large part due to Thomas' stellar work in net, but soured last year. It seemed to begin when Thomas passed on attending the White House because of his personal beliefs and from there on out he seemed to be a big distraction for the team.
The scrutiny seemed to wear on Thomas, too, leading him to want to sit out a year. His contract will still count against the Bruins and will continue to run -- he will be a free agent this summer -- but he won't get paid.
The interesting tidbit in there is that Thomas does still want to come back after the one-year sabbatical. That's not entirely unexpected but it's going to be worth watching what kind of response there is league-wide to Thomas. By the time he tries to play again he will be 39 years old and will have just taken an entire year off, there's no telling how he will come back from there.
There would also be the matter of what team would have room for Thomas. Many teams around the league seem to have their goaltending situations squared away pretty well. There would also be the consideration of Thomas the teammate and how it would affect a team to bring him in.
Thomas' departure leaves the main duties to Tuukka Rask in the Bruins' net, certainly a capable starter. His backup will be Anton Khudobin, an unproven prospect who does have some potential.
For more hockey news, rumors and analysis, follow @EyeOnHockey and @StubitsCBS on Twitter and like us on Facebook.