Canucks forward David Booth to miss 4-6 weeks with strained groin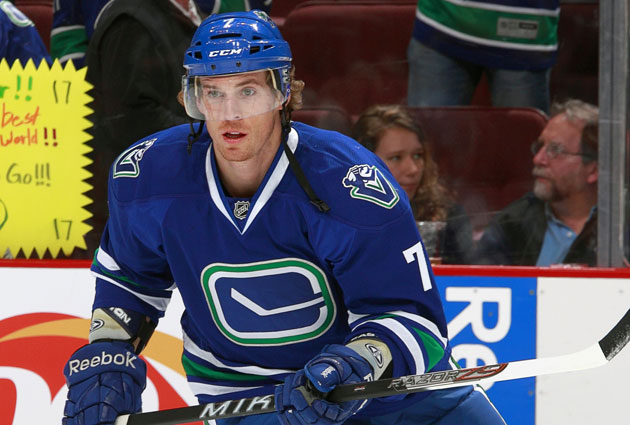 Booth had 16 goals, 14 assists in 62 games last season. (Getty Images)
Training camp isn't off to a great start for the Vancouver Canucks.
On Monday, forward David Booth had to leave practice early to get an MRI after tweaking his groin. The MRI results came down on Tuesday, and it's not good news for the Canucks: Booth is going to be out 4-6 weeks with a strained groin.
The Booth injury would be bad enough, but when it's added to Ryan Kesler being out for an undetermined amount of time due to injury, the Canucks are running out of options on their second line. Kesler and Booth were supposed to be big parts of that unit this season.
"I believe we are capable of putting four strong lines on the ice," Canucks coach Alain Vigneault said Tuesday after announcing Booth's injury.
"It's what we're going to do. Like we've always done, we're going to find a way to make this work," he added.
Booth was in the news during the lockout for his hunting escapades. That's a convenient place to put the blame for an injury like this, but Vigneault said that fitness had nothing to do with it.
That should be AV says Booth's fitness is very good, not an issue, although may have over-trained.

— Jim Jamieson (@JamiesonCanucks) January 15, 2013
Booth was acquired last season from the Florida Panthers in exchange for Marco Sturm and Mikael Samuelsson. He suffered through injury issues and ended up scoring 16 goals with 14 assists in 62 games split between the teams.
In 2008-09 with the Panthers, Booth had his best season, scoring 31 goals with 29 assists. But the following year he suffered a devastating concussion on a hit from Mike Richards. That limited him to just 28 games in 2009-10.
It will be interesting to see if this puts any more pressure on GM Mike Gillis to try to find a trade partner for Roberto Luongo and see if he can't get some help to fill the second-line roles. Those types of players aren't easy to get, but when you have a trade asset such as Luongo, it helps.
For more hockey news, rumors and analysis, follow @EyeOnHockey and @StubitsCBS on Twitter and like us on Facebook.