Travis Zajac signs eight-year contract extension with Devils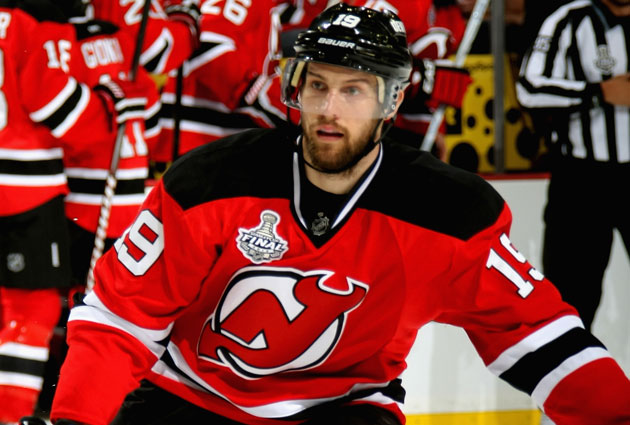 New Jersey center Travis Zajac became the first player to sign a max-term contract under the new CBA. (Getty Images)
Preview: Team-by-team | Picks | 50 things to watch | Top 50 players | All-NHL
Travis Zajac became the first player to sign a max-term contract under the new collective bargaining agreement, signing an eight-year contract extension with the New Jersey Devils on Wednesday.
The team did not release the financial terms. According to ESPN's Pierre LeBrun, it's worth $46 million. That comes out to a salary-cap hit of $5.75 million per year.
"During his time in New Jersey, Travis Zajac has become a solid, all-situation player and one of the core leaders of our hockey club," said general manager Lou Lamoriello in a team statement.
One of the biggest fights toward the end of the lockout was the NHL's fight to put a term limit on contracts (deputy commissioner Bill Daly now infamously referred to it as the hill they were prepared to die on). It was initially proposed by the owners to be a five-year limit, but the two sides eventually agreed on a seven-year limit for free agents and an eight-year limit for players already on a team's roster.
Zajac was limited to just 15 games last season due to injury, scoring two goals to go with four assists. In 24 playoff games, he scored seven goals during the Devils' run to the Stanley Cup Final.
He was the Devils' first-round pick in 2004, has spent his entire career with the team and for the past few years has been their top center. His best season was in 2009-10, when he scored 25 goals to go with 42 assists. In his last full season, he scored 13 goals.
Zajac is a good, all-around center, but that's a lot of money for that level of production. It should be interesting to see how he does this season without Zach Parise on his line.
Since the start of the 2007-08 season, Zajac spent more time on the ice with Parise than any other player and wasn't as productive without him.
He will still have Ilya Kovalchuk to team up with this season.
For more hockey news, rumors and analysis, follow @EyeOnHockey and @agretz on Twitter and like us on Facebook.