GM Ken Holland says Red Wings might not make playoffs this year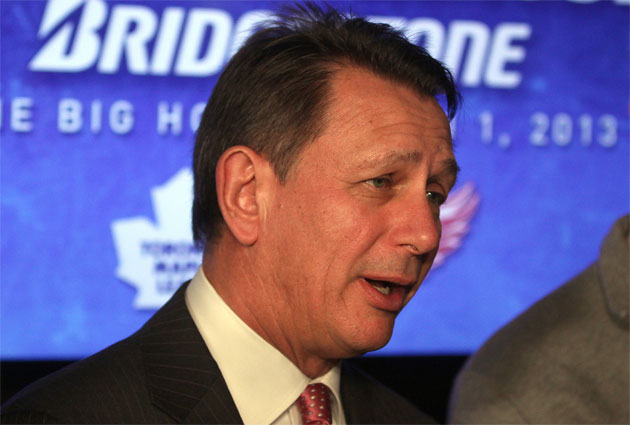 Ken Holland knows his team isn't a lock to make the postseason. (Getty Images)
In what might be the greatest case of sandbagging we've seen outside of the race for the most ping-pong balls in the lottery, Detroit Red Wings General Manager Ken Holland is on the record stating he's not sure his team will make the playoffs this season.
It's either sandbagging or a tremendous sense of self-awareness.
Speaking at a luncheon on Wednesday in Detroit, Holland recognized that the Wings aren't a lock to make the playoffs this year, a seemingly unheard of possibility. From Drew Sharp of the Detroit Free Press:
"There's the possibility that we might not make the playoffs this year," the Wings general manager said Wednesday at the Detroit Sportscasters Association luncheon at Hockeytown Cafe. "But nobody can run and hide from you any longer in this league. You can't stockpile players. You're constantly tweaking. You're constantly changing. And that's why all 16 teams that make the playoffs now can win the Stanley Cup."
It certainly seems a pretty odd thing to say just before a season begins. Maybe Holland is playing some mind games with his players by trying to anger and motivate them. Or maybe he is just trying to lower the expectations for this season and expressing the realities of the new NHL, where it's hard to be dominant anymore.
Either way, I'm not sure he's wrong. The Red Wings are a team with some really big question marks, mostly on defense. Up front it's not all peaches and cream either as you start to wonder where they will find some secondary scoring. The point is, there are holes on this roster. The good news is Holland always seems to have salary cap room to try to fill the team's needs.
While acknowledging they have holes, they also have some outstanding players still. You have might have heard of these guys named Pavel Datsyuk, Henrik Zetterberg and Jimmy Howard, among others? They're not too shabby.
In what should be a dramatic season, the Red Wings' push could become one of the more dramatic closings, seeing if they can secure a playoff spot. They have made the playoffs in each of the last 21 seasons. Seriously, kids who were born the last time the Wings didn't make the playoffs are old enough to legally drink. That's a long time and one of the most impressive streaks going in sports today. The Wings have become the pillar of stability.
Holland thinks this could be the time it ends.
Of course, now we should probably expect Damien Brunner to emerge as the next great Red Wing and for the team to somehow run away with the Central Division, unlikely as it may be.
For more hockey news, rumors and analysis, follow @EyeOnHockey and @StubitsCBS on Twitter and like us on Facebook.