VIDEO: Flyers fans thrilled to have NHL back
PHILADELPHIA -- If there remained any doubt regarding fans' response to the return of hockey, it was answered on a chilly Saturday afternoon in Philadelphia (and other cities around the league).
All across the parking lots surrounding the Wells Fargo Center, fans were tailgating with their games of cornhole, table hockey and street hockey. They were enjoying the food off their barbecues and their adult beverages, well before faceoff of the Flyers-Penguins game. The excitement for the return of the NHL was obvious.
At times, it sounded like the Flyers had just won the Stanley Cup. Every car was honking, "Let's Go Flyers!" chants breaking out. It was as if hockey never left.
Were fans angry about the lockout? Absolutely. But for everybody here, it was a situation of forgive and forget. All that matters is the NHL -- and in this case, the Flyers -- were coming back on the ice.
It was even more apparent as fans stood outside the arena entrances, just waiting for the doors to open, for an hour before fans were allowed in, all so they could come and wait while the ice was cleaned and the players played soccer in anticipation for the start. Just the same as it has always been.
And, fortunately, the ice looked the same as it always has, too. Fans were greeted with a pretty clean sheet this time, no patronizing "Thank You Fans" painted near the blue lines.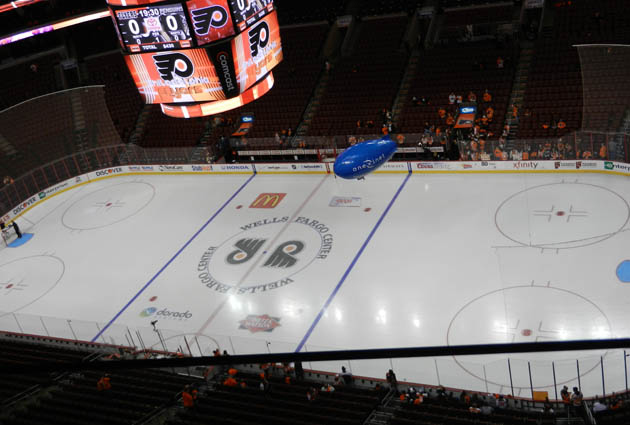 Nothing beyond the usual writing on the ice after this lockout. (CBSSports.com Original)
The Philly fans did what Philly fans do: boo the Penguins from a sea of orange jerseys. It was like nothing changed.
Hockey came back Saturday, and so did the fans.
For more hockey news, rumors and analysis, follow @EyeOnHockey and @StubitsCBS on Twitter and like us on Facebook.