CBSSports.com College Hockey Power 10 -- Week 14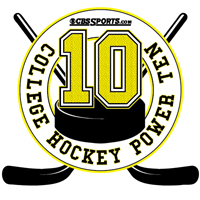 Every week here at Eye on Hockey, we'll provide the CBSSports.com College Hockey Power 10, highlighting the top teams across college hockey.
The CBSSports.com College Hockey Power 10 is a collaboration between Eye on Hockey blogger Chris Peters and CBS Sports Network Hockey analyst Dave Starman.
As the season moves on, it seems like it's Minnesota and everyone else. The Gophers are the clear No. 1 right now, with Boston College a pretty solid No. 2. UNH sticks at No. 3, while upstart Quinnipiac holds steady at No. 4. Yale is the big mover this week, vaulting from No. 10 to No. 5.
Friday on CBS Sports Network -- Ferris State at No. 7 Notre Dame -- 7:30 p.m. ET
For the second consecutive weekend, Notre Dame gets the CBS Sports Network treatment and they'll hope this time around goes a lot better than the last. Coming off of an embarrassing home sweep at the hands of the University of Alaska, the Irish are in a midseason malaise right now with just one win in five games.
Ferris State, meanwhile, comes into South Bend surging with wins in five of its last six. The Bulldogs are trying to regain the form that took them all the way to the Frozen Four last season.
Most importantly, however, this is a huge CCHA series. Notre Dame is clinging to first place in a tie with Western Michigan, while Ferris State is within striking distance at fourth. This is a crucial series for both teams and both will be looking to get off on the right foot with a Friday night victory.
This week's College Hockey TV Schedule (all times ET):
Friday, Jan. 23
Ferris State at Notre Dame -- 7:30 p.m. (CBS Sports Network)
Yale at Cornell -- 7:30 p.m. (NBC Sports Network)
Minnesota State at Minnesota -- 8 p.m. (Big Ten Network)
Alaska Anchorage at Wisconsin -- 8 p.m. (Fox College Sports)
St. Cloud State at North Dakota -- 8:30 p.m. (Fox College Sports)
Saturday, Jan. 24
Penn State at Michigan State -- 6 p.m. (Big Ten Network)
Providence at Boston University -- 7 p.m. (NESN)
Michigan at Western Michigan -- 7:30 p.m. (Fox College Sports)
Minnesota at Minneota State -- 8 p.m. (Fox College Sports)
St. Cloud State at North Dakota -- 8 p.m. (Fox College Sports)
Alaska Anchorage at Wisconsin -- 9 p.m. (Fox College Sports)
CBSSports.com College Hockey Power 10

1. Minnesota (17-3-4) -- Last Week: 1
A win and tie against archrival North Dakota gave Minnesota a pair of solid results against a quality opponent. The Gophers are unbeaten in their last 10 and only looking stronger.
2. Boston College (14-5-2) -- Last Week: 2
The midyear doldrums haven't spared BC. A bit of a clunker against UMass nearly knocked the Eagles from their high perch, but a rousing 9-3 victory over Northeastern the next night helped right the ship.
3. New Hampshire (14-5-2) -- Last Week: 3
The Wildcats also had a tough loss last week, getting clipped by Providence, but there haven't been enough teams stepping forward to unseat UNH. A home-and-home series with Merrimack is up next.
4. Quinnipiac (18-3-3) -- Last Week: 4
The Bobcats were able to survive a scare at UConn on Tuesday night to extend their nation-high unbeaten streak to 17 games. In a year where parity seems to reign, Quinnipiac's streak is mind-boggling.
5. Yale (11-4-3) -- Last Week: 10
Unbeaten in its last five games, Yale is a team rapidly on the rise in a very tough ECAC this year. The Bulldogs have a really tough test this weekend at Cornell. Should show a lot about this team.
6. North Dakota (13-7-4) -- Last Week: 5
Despite skating away without a win last weekend at Minnesota, UND showed flashes of what is going to make this team tough down the stretch. Danny Kristo and Corban Knight make up the nation's most dynamic one-two punch.
7. Notre Dame (15-9-0) -- Last Week: 6
Though the Irish are stumbling coming out of winter break, they have the talent to get out of this hole. Notre Dame is still in first in the CCHA and needs to show improvement against Ferris State this weekend.
8. Western Michgian (14-6-4) -- Last Week: 8
The Broncos continued inching their way up the charts with a tie and victory against Lake Superior State last weekend. The team's staunch defense has shined all season, allowing an average of 1.80 goals against per game.
9. UMass-Lowell (13-7-1) -- Last Week: NR
It's been a while since the RiverHawks made the Power 10, but with a nine-game winning streak, the slow start is a distant memory. This could be a sign of things to come for UML.
10. Miami (13-6-5) -- Last Week: 9
The offense has struggled a bit for Miami of late, but the RedHawks were able to halt Wisconsin's seven-game winning streak on the road. The goaltending has been a bright spot with Jay Williams and Ryan McKay both playing extremely well of late.
Dropped Out: Denver (13-8-4)
On the Cusp: Nebraska Omaha (13-9-2), Dartmouth (10-6-2), Denver (13-8-4), St. Cloud State (14-10-0), Boston University (12-9-0)
For more hockey news, rumors and analysis, follow @EyeOnHockey and @chrismpeters on Twitter and like us on Facebook.