Report: Glendale in the dark as Coyotes sale deadline looms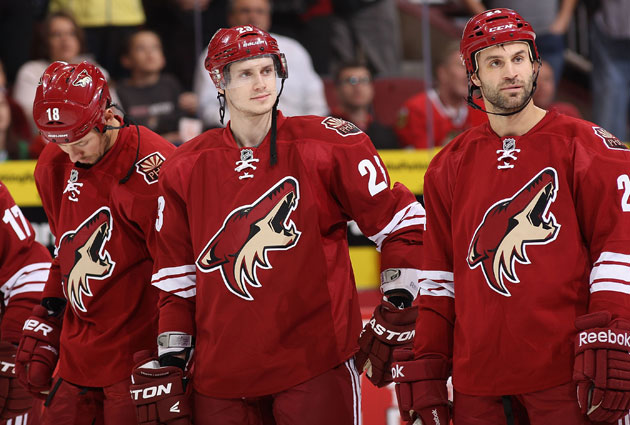 The Coyotes continue to wait to find out their fate. (Getty Images)
More NHL: Scores | Standings | Odds | Fight-O-Meter | League Leaders | Rumors
Nothing is ever clear in the mysterious case of the Phoenix Coyotes.
Last we heard, a deal for Greg Jamison to finally buy the franchise from the NHL was imminent. That was three weeks ago and still nothing is done. Time is running out, literally.
This Thursday marks the deadline for Jamison to buy the team with the very favorable arena lease deal put forth by the City of Glendale. If the purchase isn't done by then, you might kiss a deal good bye because with the new year came new city officials who have made it clear they don't like the proposed deal the previous administration passed. This is crunch time for Jamison.
And the problem is, Glendale doesn't know if he's going to be able to buy the team or not. From The Arizona Republic:
New Glendale Mayor Jerry Weiers said he has his doubts about whether Jamison actually will be able to pull it off by Thursday.

"For the life of me, I can't figure why, if everything is lined up, if he's got the money in hand, why would he postpone this? That's the only thing I haven't been able to figure out," Weiers said. "What would be the purpose of delaying it?"

The mayor said he asked Jamison that very question last week. Weiers said Jamison responded that he was optimistic about completing the sale but offered no details.
This is really just par for this course; nothing comes easy in the years-long attempt to sell the franchise.
Weiers is right. If Jamison has the money then why delay? It leads to a pretty obvious conclusion: that Jamison probably still doesn't have the necessary money. Yes, the city has proposed to pay him a lot over the years of the lease to help cover the operating costs to ensure the arena will have a tenant, but Jamison has to have the liquid assets to actually purchase the team from the league.
If a deal isn't reached by Thursday's deadline it might be time to say goodbye to the Phoenix Coyotes. It's hard to believe this isn't the end of the road one way or the other. We know there are certainly some interested spectators in Quebec City, Seattle and other hopeful NHL cities.
More from Eye on Hockey
Report: Jamison on verge of announcing deal
Glendale City Council approves proposed lease
For more hockey news, rumors and analysis, follow @EyeOnHockey and @StubitsCBS on Twitter, subscribe to our YouTube account and like us on Facebook.