P.K. Subban signs two-year deal with Montreal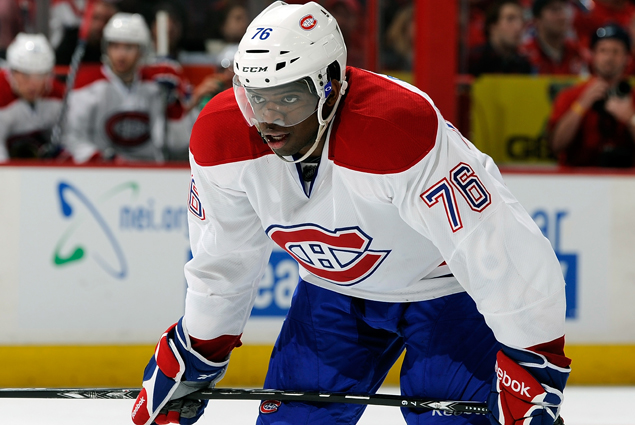 P.K. Subban and the Canadiens ended their stalemate with a two-year deal for the budding defenseman. (Getty)
The Montreal Canadiens have finally come to terms with budding star defenseman and restricted free agent P.K. Subban,the team announced today.
TSN's Bob McKenzie has the particulars.
So P.K. Subban re-ups with MTL, two years, $2M in Year 1 and $3.75M in Year 2 for $2.875M AAV.

— Bob McKenzie (@TSNBobMcKenzie) January 29, 2013
Reports as early as recently as Saturday indicated the two sides were still far apart, with Subban seeking a long-term contract and the Habs unwilling to go that route. It appears first-year general manager Marc Bergevin held his ground and got one of the better young defensemen in the NHL for a bargain.
As our own Adam Gretz wrote Saturday, the Habs were gunning for a contract with terms similar to the one the New York Rangers signed Michael Del Zotto to:
Like Subban, Del Zotto was a restricted free agent this past summer and is a talented, offensive defenseman with similar production throughout his career.

Del Zotto signed a two-year contract worth around $5 million ($2.5 million per year) coming out of the lockout.

The only problem with that comparison from a Canadiens standpoint (or perhaps a Subban standpont) is that even with their similar point production (Del Zotto actually had more points last season), Subban is a superior player and is counted on to play a significantly bigger, more difficult role in Montreal. Especially at even strength.
Gretz also cited Subban being used like a No. 1 defenseman in 2011-12, seeing time against opponents' top forwards, while Del Zotto's usage fell more in line with a No. 4.
Subban will make more and has a higher cap hit than Del Zotto, but not by the amount expected if using those two players as comparables.
The drawn out negotiations left a lot of time for heated debate about Subban's true value and rumors continued to swirl that the Habs could deal the young star. Instead, they made a very economically sound deal and hang on to a player still realizing his vast potential.
Subban has put up 76 points in 160 regular-season games and was an all-rookie selection in 2010-11.
For more hockey news, rumors and analysis, follow @EyeOnHockey and @chrismpeterson Twitter and like us on Facebook. Also, subscribe to our YouTube Channel.