CBSSports.com College Hockey Power 10 -- Week 15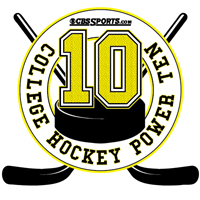 Every week here at Eye on Hockey, we'll provide the CBSSports.com College Hockey Power 10, highlighting the top teams across college hockey.
The CBSSports.com College Hockey Power 10 is a collaboration between Eye on Hockey blogger Chris Peters and CBS Sports Network Hockey analyst Dave Starman.
This wacky college season took another insane turn last weekend as many of the top teams found themselves on the losing end of at least one game in their series.
Minnesota retained the top spot this week despite a split with Minnesota State, but Boston College's recent struggles have bumped the Eagles all the way to No. 5. Meanwhile, Quinnipiac climbs to No. 2 with its stunning string of success. Western Michigan is another riser on the Power 10 after taking sole possession of first place in the CCHA.
There are no games on CBS Sports Network this week but still a full slate of college hockey on TV, including the Beanpot Tournament, one of hockey's great traditions.
This week's College Hockey TV Schedule (all times ET):
Friday, Feb. 1
Michigan State at Michigan -- 6:30 p.m. (Big Ten Network)
UMass-Lowell at Merrimack -- 7 p.m. (NESN)
Dartmouth at Union -- 7:30 p.m. (NBC Sports Network)
Wisconsin at North Dakota -- 8:30 p.m. (Fox College Sports)
Saturday, Feb. 2
Michigan vs. Michigan State -- 4 p.m. (Fox College Sports)
Merrimack at New Hampshire -- 7 p.m. (Fox College Sports)
Wisconsin at North Dakota -- 8 p.m. (Fox College Sports)
Monday, Feb. 4 -- Beanpot Tournament
Boston University vs. Northeastern -- 5 p.m. (NESN)
Boston College vs. Harvard -- 8 p.m. (NESN)
CBSSports.com College Hockey Power 10

1. Minnesota (18-4-4) -- Last Week: 1
The Gophers have had a bit of trouble with Minnesota State this year and ended up splitting with the Mavericks last weekend. A huge WCHA series with St. Cloud State could have regular-season championship implications.
2. Quinnipiac (18-3-3) -- Last Week: 4
The Bobcats had the weekend off and maybe that was a good thing seeing as the rest of the top dogs seemed to struggle. Quinnipiac puts its 17-game unbeaten streak on the line this weekend on the road at Brown and Yale.
3. New Hampshire (15-6-2) -- Last Week: 3
UNH split with middle-of-the-pack Merrimack, which just about bumped the Wildcats from the top three. However, after scoring six on Saturday, it looks like the UNH offense is waking up again.
4. Western Michgian (16-6-4) -- Last Week: 8
The balance of power has truly shifted in the CCHA. The Broncos manhandled Michigan last weekend to claim first place in the CCHA. A tough road series at Ferris State will test WMU.
5. Boston College (14-7-2) -- Last Week: 2
Things aren't going very well for Boston College, but a home sweep at the hands of middling Maine last weekend might be rock bottom. The Eagles have won just two of their last eight during this midseason swoon.
6. Miami (15-6-5) -- Last Week: 10
The RedHawks are starting to heat up with three straight wins. Not only that, but Miami has only allowed a goal or less in nine of its last 11 games. That's stifling. Alaska rolls into Oxford this weekend.
7. UMass-Lowell (14-7-2) -- Last Week: 9
The River Hawks are 10-0-1 in their last 11 and scoring in bunches with four or more goals in seven of those 11. With trips to Merrimack and Maine coming up, UML has a good chance to keep that momentum going.
8. Yale (12-5-3) -- Last Week: 5
After a hard-fought 3-2 win over Cornell, Yale fell to Colgate 4-1 Saturday. That halted the Bulldogs' unbeaten streak at six. Yale can't get caught looking past Princeton with a big Saturday tilt against Quinnipiac looming.
9. North Dakota (13-8-5) -- Last Week: 6
A loss and a tie to St. Cloud State certainly didn't help UND gain any ground in the WCHA standings. A much-improved Wisconsin squad is coming into Grand Forks this weekend for the final WCHA meeting between the two powers. It's a huge series for both clubs.
10. St. Cloud State (15-10-1) -- Last Week: NR
The Huskies are No. 1 in the WCHA after the win and tie at North Dakota. Senior captain Drew LeBlanc has been sensational and should figure into the Hobey race in a big way. SCSU has been up and down, but they've been terrific in conference. Bemidji State is next for the Huskies.
Dropped Out: Notre Dame (16-10-0)
On the Cusp: Notre Dame (16-10-0), Nebraska Omaha (15-9-2), Minnesota State (16-9-3), Boston University (13-9-1), Denver (13-8-4),
For more hockey news, rumors and analysis, follow @EyeOnHockey and @chrismpeters on Twitter and like us on Facebook.